Brett Favre on Jay Leno No Decision On Retirement (VIDEO)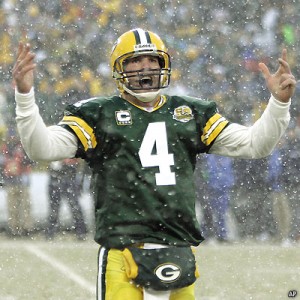 Brett Favre went on the Jay Leno show, most likely to talk about rumors of his retirement. From the way he talked on the show, he doesn't seem he has any plans on retiring again. It looks like the guy might be holding out for another chance to add a ring to his finger.
Favre makes it abundantly clear to Jay that he is out in Burbank visiting Jay, pretty much because it is a convenient stop on the way to see Hannah Montana with his 10 year old daughter. "Hannah Montana rules," he tells Jay at the beginning of their interview. Don't let your buddies hear you in the locker room big guy.
The Vikings quarterback talks about many things in the video, such as working hard to win over Vikings fans, a place he once was hated in, and also hated to be at. Putting in that amount of work for only one season does seem like a waste.
Personally, I liked Favre a whole lot better before he changed his mind on retirement. He took his time, and let Green Bay build up a new time around a new quarterback, and decided he wanted back.  I thought it was disrespectful to the organization he had played for, and to the new team they had built up. I guess that is just my opinion…
What do you think? Should he retire again? Should he have never left retirement? Let us know in the comments!