Book Review: The Night Circus by Erin Morgenstern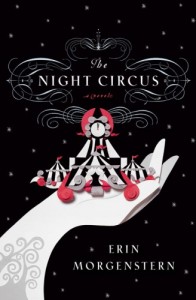 It is called Le Cirque des Rêves. It is open from midnight until dawn. No one knows when it will arrive or for how long it will stay. What they do know, is that this circus is like no other. The acts are magical and mesmerizing. People will see things they can only imagine in dreams.
This is an accurate description of the main setting in The Night Circus. Though the circus is only the tip of the iceberg. The main story is the "competition" that is being held between two people who are experts in magic, Celia and Marco.  They were chosen at a young age and raised to believe that their whole lives must revolve around the competition.
Celia was raised by her father, a famous magician, named Prospero. While orphaned Marco is raised by a man in a grey suit named Alexander. They know nothing about each other or many details of the competition set for them by Prospero and Alexander. When they get older, Celia and Marco learn that the circus is their playing field and they use their magic to manipulate it and the acts. However, things start to change when Celia and Marco meet and, after a time, fall in love. The fate of the circus depends on them and their magic.
Erin Morgenstern, the author of The Night Circus, has an unbelievable talent to pull you into the story of this circus and its characters. She has a great eye for detail and does a wonderful job of describing the circus acts, you feel as though you are seeing it in front of you. I thoroughly enjoyed this book and Morgenstern's writing. I look forward to more from her.
The Night Circus gets an A.