Blue Man Group Brings A Brisk New Production to The Fabulous Fox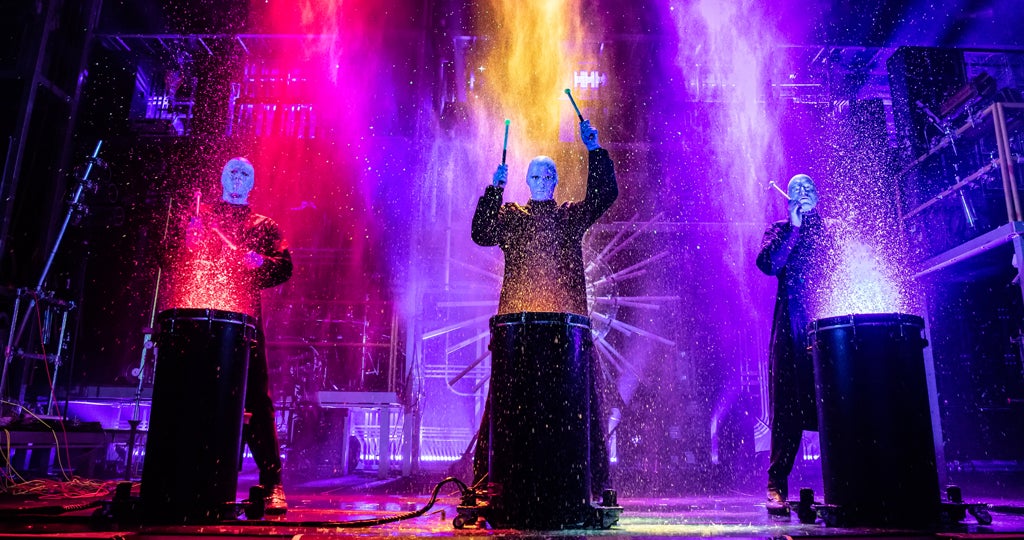 Since 1987, Blue Man Group's mix of percussive drumming, performance art, high-energy showmanship, and colorful moments of creativity has dazzled audiences worldwide. Despite their lasting success, the men in blue have never wavered from upping their game. 
The creative threesome's newest show, now playing at The Fabulous Fox Theatre, is a relentless production that meshes highlights from previous BMG shows with daring, new antics. For this production, the trio features new music, a barrage of visual projections, and a heavy dose of audience interaction.
Entering the stage from the darkness, Blue Man Group at first seems lost in a strange setting. To remedy this, they turn to percussion to acclimate to their new surroundings. They instantly ingratiate themselves to an enthused audience with two classic routines that feature paintball art and drumming with lighted colors. From there they do what they do best, make lots of noise on everyday objects and custom-crafted instruments. Things stay fresh with interspersed bits of virtual reality wackiness and physical comedy.
Running at a breakneck pace for nearly ninety minutes, the blue men rely heavily on pulsing music banged out on custom-made instruments. Syncopated and precise, their hammering beats are the ideal framework for a wide range of shenanigans, including several moments of audience interaction that include performing melodies on squeaky toys, a playful wedding, and plenty of goofiness with props that energize the audience.
Absurdist, messy, surreal, mesmerizing, and fun, Blue Man Group's new show is a relentless volley of momentum that marries the excitement of live theater, the spirit of silent film, and the experimental inventiveness of performance art, leaving crowds dazzled by the showmanship and bombastic percussion.
Performances by The Blue Man Group run through February 12th at The Fabulous Fox Theatre. For more information, visit fabulousfox.com.