Blu-Ray Review: Insidious Starring Patrick Wilson & Rose Byrne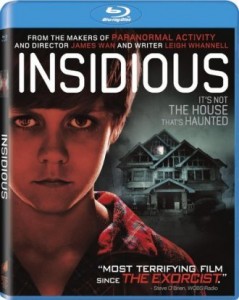 The Film – Insidious
Many people have begun to criticize the lack of imagination in many recent films.  With remake after remake and sequel after sequel, it seems that no one in Hollywood has an original idea – or at least is brave enough to produce one. However, Insidious is not a sequel, prequel or a remake and yet it's influences can be felt far and wide. Is this a bad thing? Certainly not.
Insidious stars Patrick Wilson and Rose Byrne as parents of a young boy who slips into a coma after taking a fall in their attic. After encountering several evil spirits in their home, the parents enlist the help of a medium to rid their family of these entities.
At its core, Insidious is a "boo" type of horror movie. The story arc combines elements of a haunted house movie and a possession movie, but always comes back to a creepy guy in the corner to scare you. Some may call Insidious a one-trick pony, but it's a hell of a trick and there are enough variations of that trick to keep things interesting.  Filmmakers James Wan and Leigh Wannell (Saw, Dead Silence) use almost every component of the filmmaking process to enhance the scare. Whether that is editing, makeup, lighting, shot composition or most notably sound, Insidious will keep you jumping.
The Sound – DTS-HD Master Audio 5.1 Lossless
While watching Insidious, the greatest source of my anxiety came from trying to predict when I needed to turn the volume down. While the mixing and the sound effects are spectacular, the volume levels change so drastically, that it's often hard to appreciate the quality of the sound. When my ears weren't bleeding, I could tell that violins and string instruments on the high end were crisp and piercing and low bass tones were appropriately earthy.
The Video – 2.40:1 – 1080p/AVC MPEG-4
With the exception of some color banding effects from the use of digital film, Insidious shows off a rather pristine transfer. Perhaps the most important video feature of a film like this is black levels and here they are deep and rich and inky while providing clear delineation with shadows. The stylistic choices of tint color may obscure some of the detail in a few scenes, but all in all, Sony has provided a visual feast.
The Verdict
-Worth Your Money-
Not Worth Your Money
Worth Somebody Else's Money