Blu-Ray Review: David Fincher's "The Girl with the Dragon Tattoo" Starring Danial Craig and Rooney Mara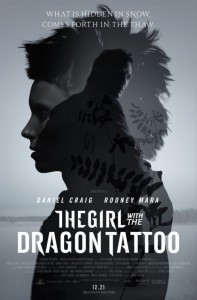 I am a fan of the work that David Fincher does.  "The Social Network", "Zodiac", and "Se7en" are all films that I could watch each week.  What didn't make sense to me was that Fincher would want to make an adaptation of a novel that had already been adapted.  Not only that, it was released in the United States two years prior.  Throw on top of that, the film was damn good.  While the material is perfect for Fincher, I just couldn't Fathom that he would be able to bring anything new to the table.  Fincher's "The Girl with the Dragon Tattoo" is a well crafted film that many people who have not seen the Swedish adaptation will enjoy (not sure if that's the right word) but will leave those who have seen the original just watching a tale not all that nuch different.
Mikael Blomkvist is a journalist who just lost his life savings when he trusted the wrong source in trying to bring down a businessman.  So he is more than happy to escape the media eye when asked to investigate a missing girl incident that took place forty years prior.  Henrik Vanger hires him to look into the case of his missing neice.  Blomkvist is soon in need of a research assistant who comes in the form of Lisbeth Salander, an emotionally withdrawn computer hacker who has been subjected to violence and abuse her whole life.  Lisbeth and Mikael find themselves stuck in a world of religion, nazis, and murder where they must rely on each other to escape.
From a technical standpoint, I think this is the second best film of 2011 (the first being Scorcese's "Hugo").  The cinematography, music, editing, and tone are just perfect for the story and setting.  Nothing sets the tone better than the opening credits sequence.  Karen O sings a cover to Led Zeppelin's "Immigrant Song" that players over sequence done similar to a James Bond credit sequence except this is way more f'ed up in an amazing way.  Fincher has described the sequence as what Lisbeth's nightmares would look like.
Daniel Craig plays Mikael Blomvkist to perfection.  But the real star here, as the title suggests, is Lisbeth Salander.  Rooney Mara had a nearly impossible challenge in front of her: to play a character already adored by both critics and audiences as played by Noomi Rapace.  Mara and Fincher did the best thing possible, capture the character but in a very different way.  Mara's Lisbeth is withdrawn, fears unwanted physical contact, and almost fragile.  Which is funny to see her as fragile, especially after watching the brutal revenge sequence at the conclusion of the first act.
"The Girl with the Dragon Tattoo" may not be a film I frequent as much as "The Social Network" or "Zodiac" (you can only watch rape as portrayed here so often), but it is a film worth your time.  I am curious to see where Fincher can go with this world, but not with the next two stories.  I would rather see him create something completely new with Mikael and Lisbeth, but I don't think that is going to happen.  I will be curious if Sony will in fact push ahead with this series, and if so, will Fincher return?
Special Features
Audio Commentary with director David Fincher
"Men who Hate Women" – Discusses the impact of the novel in Sweden and in pop culture.  Fincher also discusses the challenges of adapting the large novel.
"Characters" – A look inside Lisbeth, Mikael, and Martin and the actors that brought them to life on the screen.
"On Location" – An inside looking at filming in Sweden and Hollywood
"Post Production" – Fincher discusses cutting down hours upon hours of footage, sometimes fully explaining why he cut certain sequences as he does it.
 "Main Titles" – In my opinion the best feature, an in depth look at the wonderful opening credit sequence.
"Promotion" – Fake news reports about the incident on the bridge, trailers, tv spots
If you are a fan of the film, then you need to get it on blu-ray.  All of the sections of the features above have multiple categories within them.  Lots of Fincher interviews.  Lots of looks at the making of this film.