Beyond His Years – P.J. Walters and STL Cardinals
Few men have to go through what P.J. Walters has gone through the last five months. Even fewer have had to do it at the age of 25.
This past winter, P.J. and his wife had their first child, Annabelle, born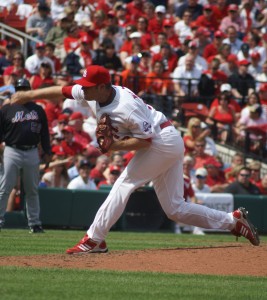 approximately 14 weeks prematurely. As expected, she faced several health problems from the outset and died in April.
Obviously, P.J. was given as much time as needed by the team to be with his wife and family. He got a late start to Memphis' season and was called up to the Cardinals recently when Brad Penny went on the disabled list.
Making his second career start (he made an emergency start last season when Chris Carpenter went on the DL), Walters responded by following the lead of his teammates, shutting out the Padres through five innings, allowing four hits and two walks while striking out four.
It's damn near impossible for me to imagine what he's had to go through. Much to his credit, Walters appears to be handling it as well as anyone could expect, and hopefully this start offers a glimpse into his future. With Kyle Lohse having surgery today (more on that later), Walters almost certainly assured himself of an extended look even when Penny returns.
Regardless of what happens in the future, P.J. appears to be a man with his head on straight and a bright future. Hopefully he and his wife may one day find solace not only in his accomplishments as a pitcher, but in their growth as a family.
Cardinals Notes
– Albert's been saying all along he'd be ok, and hopefully this series was an indication his words have come to fruition. After getting three hits in the first game of the series, Pujols cranked a long shot last night off the third deck of the facade at PETCO Park. In addition, he drove in three runs and narrowly missed driving in more.
– As a whole, the Cardinals hit well last night, getting key hit after key hit. Ludwick had three hits and drove in two. Holliday got a couple of hits. Perhaps the most hopefully sign was Brendan Ryan, who went 4-4 with a home run and made some solid plays in the field. Ryan finally brought his average above the Mendoza Line.
This final game provided a true glimpse at the potential damage the Cardinals can cause when their lineup is hitting on all cylinders. There will be off-days, certainly, but there's no reason this team can't average five runs a game.
– Kyle Lohse is set to undergo surgery on his throwing arm today, having been diagnosed with exertional compartment syndrome. This condition constricts muscles and prevents them from increasing and decreasing normally. The condition's pretty rare for a baseball player; in fact, Lohse might be one of the first documented cases in the majors. This leads to a little bit of uncertainty in terms of recovery; estimates are anywhere from two months to the rest of the season.
This might cause the Cardinals to consider their options for the final spot in the rotation. Walters might get a chance to prove he should stay in the big leagues, Adam Ottavino (the pitcher expected to be recalled this weekend to start) might get a look, or the Cardinals will look outside the organization, via free agency or trade.
Obviously, if the Cardinals go the latter route, Roy Oswalt would be a dream addition for the season, as he would give the Cardinals three established aces to go with Brad Penny and Jaime Garcia, who's garnering candidacy not only for rookie of the year, but for the Cy Young. It's to be noted, however, that this scenario is highly unlikely, as the Cardinals most likely won't want to take on his contract, and the Astros aren't likely to make a trade with an intra-division rival.
Coming up, the Cardinals head to Wrigley Field for the weekend. Chris Carpenter takes the mound for the Birds this afternoon at 1:15.