BATTLESHIP Opens May 18! Enter to Win Passes to the St. Louis Advance Screening!
Enter to win a pass good for two!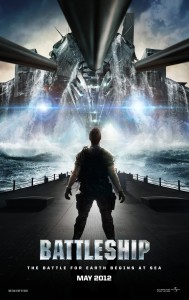 Peter Berg (Hancock) produces and directs Battleship, an epic-scaled action-adventure that unfolds across the seas, in the skies and over land as our planet fights for survival against a superior force. Inspired by Hasbro's classic naval combat game, Battleship stars Taylor Kitsch as Lt. Alex Hopper, a Naval officer assigned to the USS John Paul Jones; Brooklyn Decker as Sam Shane, a physical therapist and Hopper's fiancee; Alexander Skarsgard as Hopper's older brother, Stone, Commanding Officer of the USS Sampson; Rihanna as Petty Officer Raikes, Hopper's crewmate and a weapons specialist on the USS John Paul Jones; and international superstar Liam Neeson as Hopper and Stone's superior (and Sam's father), Admiral Shane.
Cast: Taylor Kitsch, Brooklyn Decker, Alexander Skarsgard, Rihanna, Asano Tadanobu, Liam Neeson
Director: Peter Berg
In order to enter the contest, become a fan of ReviewSTL on Facebook and share ReviewSTL.com with all your friends (click the "share" link on the bottom-left side of the page) – telling us why you want to see the movie! Then "like" the post to complete your entry. NO PURCHASE NECESSARY. While supplies last. Passes are available on a first-come, first-served basis.
Winners will be chosen at random from all entries. Supplies are limited. Limit one (1) pass per person, passes admit (2) two. Sponsor's employees and their dependants are ineligible. Screening is overbooked to ensure capacity. Please refer to passes for any other possible restrictions. No purchase necessary.
Screening is Tuesday, May 15 at Wehrenberg Galaxy 14 Cine (7 PM).
Good luck! We hope to see you at the movies!
BATTLESHIP OPENS MAY 18