Barack Obama Remembers Walter Cronkite – Watch the Video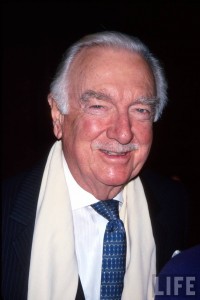 Walter Cronkite passed away at the age of 92 in New York yesterday. He will be remembered as one of the greatest news anchors of our time.
From CBS News:
President Barack Obama remembers legendary CBS News anchor Walter Cronkite as someone who "invited us to believe in him and he never let us down.
RIP Walter Cronkite (November 4, 1916 – July 17, 2009)
Here are some words from others that remember Walter Cronkite:
"He had a passion for human space exploration, an enthusiasm that was contagious, and the trust of his audience. He will be missed." — Astronaut Neil Armstrong.
"He was "a jolly and supportive friend. He will be missed by each of us individually who knew him and by the whole country who loved him." — ABC's Barbara Walters.
"As president, I knew I would be treated fairly by Walter. Although his questions might be tough, I always enjoyed the challenge." — Former President Jimmy Carter.
"It's a great time to look back and think about someone who played such a major role in explaining what was going on and did it in a calm, fact-based way without embellishments that too often get in the way of really understanding what's going on." Secretary of State Hillary Rodham Clinton.
"From the earliest days of the space program, Walter brought the excitement, the drama and the achievements of space flight directly into our homes. But it was the conquest of the moon in the late 1960s that energized Walter most about exploration. He called it the most important feat of all time and said that the success of Apollo 11 would be remembered 500 years from now as humanity's greatest achievement." — NASA director Charles Bolden.