Award Winners from the 16th Annual Screen Actors Guild (SAG) Awards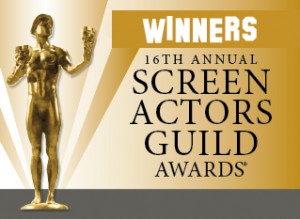 The 16th Annual Screen Actors Guild (SAG) Awards took place on Saturday (Jan. 23, 2010) in Los Angeles, California. Voting for winners occurred by receiving votes from the guild, which close to 100,000 members are a part of.
The award ceremony followed closely to the Golden Globes, as Jeff Bridges received the award for best actor for "Crazy Heart," and Sandra Bullock received the award for best actress for "The Blind Side."  Christoph Waltz nabbed the much deserved award for best supporting actor for his role as Colonel Hans Luna in "Inglorious Basterds," and Mo'Nique won best supporting supporting actress for her performance in "Precious." The award for best performance by a cast in a motion picture went to the cast of "Inglourious Basterds,"including: Diane Kruger, Mélanie Laurent, Mike Myers, Brad Pitt, Eli Roth, Til Schweiger, and Christoph Waltz. The Screen Actors Guild awarded Betty White with the 46th Annual Life Achievement Award, presented by Sandra Bullock.
Below is the complete list of award recipients from the 16th Annual Screen Actors Guild Awards®, from sag.org —
THEATRICAL MOTION PICTURES
Outstanding Performance by a Male Actor in a Leading Role
JEFF BRIDGES / Bad Blake – "CRAZY HEART" (Fox Searchlight Pictures)
Outstanding Performance by a Female Actor in a Leading Role
SANDRA BULLOCK / Leigh Anne Tuohy – "THE BLIND SIDE" (Warner Bros. Pictures)
Outstanding Performance by a Male Actor in a Supporting Role
CHRISTOPH WALTZ / COL. Hans Landa – "INGLOURIOUS BASTERDS" (The Weinstein Company/Universal Pictures)
Outstanding Performance by a Female Actor in a Supporting Role
MO'NIQUE / Mary – "PRECIOUS: BASED ON THE NOVEL 'PUSH' BY SAPPHIRE" (Lionsgate)
Outstanding Performance by a Cast in a Motion Picture
INGLOURIOUS BASTERDS (The Weinstein Company/Universal Pictures)
DANIEL BRÜHL / Fredrick Zoller
AUGUST DIEHL / Major Hellstrom
JULIE DREYFUS / Francesca Mondino
MICHAEL FASSBENDER / LT. Archie Hicox
SYLVESTER GROTH / Joseph Goebbels
JACKY IDO / Marcel
DIANE KRUGER / Bridget von Hammersmark
MÉLANIE LAURENT / Shosanna
DENIS MENOCHET / Perrier LaPadite
MIKE MYERS / General Ed Fenech
BRAD PITT / LT. Aldo Raine
ELI ROTH / SGT. Donny Donowitz
TIL SCHWEIGER / SGT. Hugo Stiglitz
ROD TAYLOR / Winston Churchill
CHRISTOPH WALTZ / COL. Hans Landa
MARTIN WUTTKE / Hitler
PRIMETIME TELEVISION
Outstanding Performance by a Male Actor in a Television Movie or Miniseries
KEVIN BACON / Lt. Col. Michael R. Strobl – "TAKING CHANCE" (HBO)
Outstanding Performance by a Female Actor in a Television Movie or Miniseries
DREW BARRYMORE / Little Edie – "GREY GARDENS" (HBO)
Outstanding Performance by a Male Actor in a Drama Series
MICHAEL C. HALL / Dexter Morgan – "DEXTER" (Showtime)
Outstanding Performance by a Female Actor in a Drama Series
JULIANNA MARGULIES / Alicia Florrick – "THE GOOD WIFE" (CBS)
Outstanding Performance by a Male Actor in a Comedy Series
ALEC BALDWIN / Jack Donaghy – "30 ROCK" (NBC)
Outstanding Performance by a Female Actor in a Comedy Series
TINA FEY / Liz Lemon – "30 ROCK" (NBC)
Outstanding Performance by an Ensemble in a Drama Series
MAD MEN (AMC)
ALEXA ALEMANNI / Allison
BRYAN BATT / Salvatore Romano
JARED S. GILMORE / Bobby Draper
MICHAEL GLADIS / Paul Kinsey
JON HAMM / Don Draper
JARED HARRIS / Lane Pryce
CHRISTINA HENDRICKS / Joan Holloway (Harris)
JANUARY JONES / Betty Draper
VINCENT KARTHEISER / Peter Campbell
ROBERT MORSE / Bertram Cooper
ELISABETH MOSS / Peggy Olson
KIERNAN SHIPKA / Sally Draper
JOHN SLATTERY / Roger Sterling
RICH SOMMER / Harry Crane
CHRISTOPHER STANLEY / Henry Francis
AARON STATON / Ken Cosgrove
Outstanding Performance by an Ensemble in a Comedy Series
GLEE (FOX)
DIANNA AGRON / Quinn Fabray
CHRIS COLFER / Kurt Hummel
PATRICK GALLAGHER / Ken Tanaka
JESSALYN GILSIG / Terri Schuester
JANE LYNCH / Sue Sylvester
JAYMA MAYS / Emma Pillsbury
KEVIN McHALE / Arty Abrams
LEA MICHELE / Rachel Berry
CORY MONTEITH / Finn Hudson
HEATHER MORRIS / Brittany
MATTHEW MORRISON / Will Schuester
AMBER RILEY / Mercedes
NAYA RIVERA / Santana Lopez
MARK SALLING / Puck
HARRY SHUM JR. / Mike Chang
JOSH SUSSMAN / Jacob Ben Israel
DIJON TALTON / Matt Rutherford
IQBAL THEBA / Principal Figgins
JENNA USHKOWITZ / Tina
SAG HONORS FOR STUNT ENSEMBLES
Outstanding Performance by a Stunt Ensemble in a Motion Picture
STAR TREK (Paramount Pictures)
Robert Alonzo
Daniel Arrias
Sala Baker
Steve Blalock
Joey Box
Ben Bray
Mark Chadwick
Ilram Choi
Zack Duhame
Pete Epstein
Jeremy Fitzgerald
Terry Jackson
Craig Jensen
Paul Lacovara
Rob Mars
Mike Massa
Heidi Moneymaker
Mike Mukatis
Courtney Munch
Kimberly Murphy
Chris Palermo
Jim Palmer
Eddie Perez
Dan Plum
Damion Poitier
Susan Purkhiser
Mike Schneider
Dennis Scott
Chris Torres
Webster Winnery, Jr.
Marcus Young
Outstanding Performance by a Stunt Ensemble in a Television Series
24 (FOX)
Jeff Cadiente
Brian Hite
Norman Howell
Chris Leps
Dustin Meier
John Meier
Gary Price
Jimmy Sharp, Jr.
Erik Stabenau
Justin Sundquist
Screen Actors Guild Awards 46th Annual Life Achievement Award
Betty White