'Avatar' Trailer airing live in Dallas on Sunday
AVATAR TRAILER GETS WORLD'S LARGEST LIVE TRAILER VIEWING
ON NOVEMBER 1
ON ONE OF THE BIGGEST SPORTS DAYS OF THE YEAR,
THE TRAILER DEBUTS ON THE WORLD'S BIGGEST VIDEO DISPLAY…
WHILE MILLIONS OF FOOTBALL FANS WATCH IT AT HOME!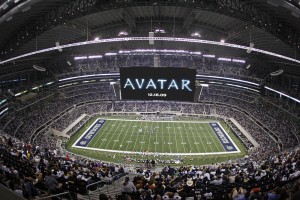 LOS ANGELES, California – October 28, 2009…On November 1, one of the biggest sports days of the year (with key NFL match-ups + Game 4 of the World Series), the AVATAR trailer will get the world's biggest live trailer viewing when it debuts on the world's largest video display — Cowboy Stadium's Diamond Vision Screen – while millions of football fans watch it at home.
FOX Sports will take the entire country viewing FOX NFL SUNDAY, America's No. 1 NFL pre-game show, to Arlington, Texas and the new Cowboys Stadium, where the three minute and thirty second trailer will play live from the enormous Mitsubishi Electric Diamond Vision screen.  The crowd attending the Cowboys-Seattle Seahawks game will experience the AVATAR trailer live just minutes prior to the noon (Central) kickoff between the Cowboys and Seahawks, on the enormous, four-sided, high-definition screen that hangs above the Cowboys Stadium playing field.  At the same time, millions of others watching FOX NFL SUNDAY will see the trailer on-air – making it the largest live motion picture trailer viewing in history.
In addition, throughout the day ninety-second AVATAR commercial spots will air on all regional games carried on the Fox affiliates, the national game on Fox, and the World Series on Fox.
AVATAR opens in theaters everywhere December 18.
About AVATAR
AVATAR, a live action film with a new generation of special effects, takes us to a spectacular world beyond imagination, where a reluctant hero embarks on a journey of redemption and discovery as he leads an epic battle to save a civilization.  James Cameron, the Oscar-winning director of "Titanic," first conceived the film 14 years ago, when the means to realize his vision did not yet exist. Now, after four years of actual production work, AVATAR delivers a fully immersive cinematic experience of a new kind, where the revolutionary technology invented to make the film disappears into the emotion of the characters and the sweep of the story.
About Diamond Vision®
The world's first four-sided, center-hung, high-definition video display in a stadium consists of four Diamond Vision® LED video screens, with the two main sideline displays measuring 72 feet high by 160 feet wide, and two Diamond Vision® end-zone displays measuring 29 feet high by 51 feet wide. Weighing 600 tons, the screens are suspended 90 feet directly over the center of the playing surface and stretch from nearly one 20-yard line to the other.  With a total viewing area of 11,393 square-feet, on each side, the Diamond Vision display is equal to 3,268 52-inch televisions, and has 10,584,064 LED lights.