AVATAR Becomes Highest Grossing Film of All Time Worldwide, Closes In On Domestic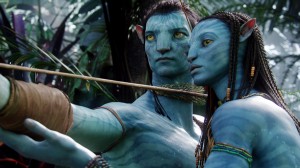 Many people will not be surprised to hear that James Cameron's Avatar has surpassed Titanic as the highest grossing movie of all time – worldwide. This past Sunday, Avatar was only $4.4 million behind the number one spot held by Titanic. Then on Monday, the film grossed nearly $20 million, moving it right into the record-books.
Now it is only a matter of time before the film becomes the highest grossing domestic film of all time. At this rate, it looks like Avatar will hold first place within the next two weeks. Titanic currently sits at number 1 with $600.788,188 domestically. Avatar is less than $46 million behind, coming in second place at $554,981,691.
So far, the film has earned Cameron a Golden Globe for Best Director, and took the award for Best Motion Picture – Drama the same night. The Directors Guild of America gave it the award for Outstanding Directorial Achievement in Motion Pictures, and it earned Best Original Screenplay from the Writers Guild of America. Does Avatar have what it takes to win Best Picture at the Academy Awards?
---
We want to hear what you think of Avatar! Do you think it was the best film of 2009? Or was it just a lot of fun? Sign up for free on my.reviewstl.com and give your two cents.