Restaurant Review – Thai Gai Yang Cafe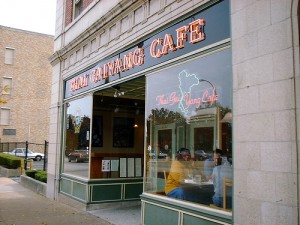 When in the Loop, you can never go wrong.  This Thai experience is proof again that the Delmar area of St. Louis is full of great food, strong drinks and lots of unique atmosphere!  Our night at Thai Gai Yang Cafe began with Fried Tofu.  I am not a vegetarian.  I LOVE a nice, juicy burger from time to time or a thick filet, so tofu tends to weird me out.  This was surprisingly good, though.  The sweet and sour sauce for dipping really jazzed the flavors up!  From there, I was ready for something SPICY!
First off, there are dishes that include "fish balls".  I'm sorry, am I the only one that giggles at that?  With Thai food there truly is something for everyone.  Love seafood?  Try the Pad Mee Sua Noodle (shrimp included).  Vegetarian?  You can have everything!  Just ask for no meat or get it with tofu.  Meat eater?   Who knew Thai had a Masman Chicken / Beef / Veggie  meal where you can get good ole meat and potatoes?
There are a lot of Thai options in the Loop, two of which are right next to Thai Gai Yang Cafe…don't even walk that way – just head into Thai Gai Yang to fulfill your Thai cravings.  The food is amazing – and you get so much that you will definitely be able to eat it again for lunch tomorrow!  And, if you're absolutely stomach-growling starving, your order is made so quickly you won't have to whine about it!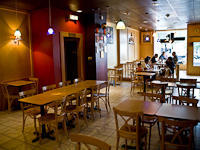 The atmosphere was quiet, but students were on holiday break so the area was a little slower than normal.  Get there early, especially if you have a big group.  And try to save room for dessert.  I wasn't able to, but the vanilla ice cream with fried bananas, ground peanuts, crushed pineapple and honey sounded amazing!  Let me know how it tastes!  Look for their menu and location at /www.allmenus.com.