Avatar Extended Cut and Avatar 2 Details From James Cameron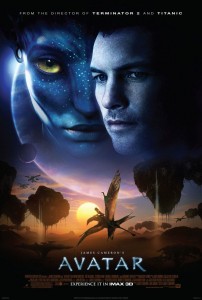 The LATimes has an interview with James Cameron promoting the Blu-Ray/DVD release this week of Avatar and he drops some official bits about a lot of the upcoming developments for the Avatar franchise.
First on the extended cut re-release this summer:
"We're working on finishing an additional six minutes of the film — which includes a lot of Weta work — for a theatrical re-release in August."
And his thoughts on the Avatar sequel(s) that is apparently heading to the oceans of Pandora:
"Part of my focus in the second film is in creating a different environment – a different setting within Pandora. And I'm going to be focusing on the ocean on Pandora, which will be equally rich and diverse and crazy and imaginative, but it just won't be a rain forest. I'm not saying we won't see what we've already seen; we'll see more of that as well."
Though no word on when we will see this new Avatar film.  Hit the link for the full story and even more talk on Avatar 3 and many other interesting things on the mind of James Cameron.
Hit the link.