Arthur Opens April 8 Nationwide – Party Like Arthur, and Get a Ride From the Scooter Guy
In honor of the remake of "Arthur" starring Russel Brand, you can get $10 off a ride from the Scooter Guy.
Synopsis:
Irresponsible charmer Arthur Bach has always relied on two things to get by: his limitless fortune and the good sense of lifelong nanny Hobson to keep him out of trouble. Now he faces his biggest challenge — choosing between an arranged marriage that will ensure his lavish lifestyle or an uncertain future with the one thing money can't buy, Naomi, the only woman he has ever loved. With Naomi's inspiration and some unconventional help from Hobson, Arthur will take the most expensive risk of his life and finally learn what it means to become a man.
Click the "Arthur Bucks" below and print for $10 off a ride from the Scooter Guy: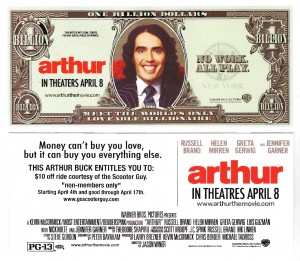 "Arthur" Opens Nationwide on April 6!
[hdplay id=308 width=595 height=375]