Another Take By Zac: TV Review: Mad Men 4.9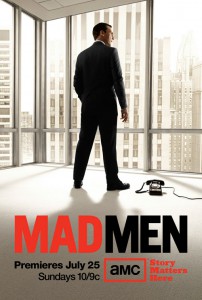 Focusing on the women in Mad Men's life is a common occurrence for the show but I don't know if it has ever been as exclusively displayed as this.  Outside his interactions with Sally and Faye, Don doesn't really have a story here and surprisingly it didn't really hurt the episode.
Peggy's lesbian friend sets her up with Peggy's closet kiss from a few weeks back on the show and the results are interesting.  Politics come into play and put a giant wedge between the two as Peggy is labeled a corporate Nazi, more or less.
Sally sneaks out of the suburbs and takes a train into the city, ending up in the lobby of SCDP to the behest of Don.  This would have turned into a rather nasty moment between Don and Sally before, but the new Don handles it well enough and the two have a nice night together in which Sally implores she stay with Don.  We all know that isn't for the best though, but Sally's freak out before Betty arrives to pick her up shows just how much she hates it at home.  The nice moments between Don and Sally are extremely sullied though as Sally runs and falls in the office hallways and gives Don the death glare as she leaves with Betty.
Faye is head over heels for Don and the two are enjoy quite the affair.  Still secretly enjoying each other's time Faye is ready for a more real relationship out in the open.  She helps Don out with Sally but feels used and tested by Don on her parenting abilities.  Don doesn't care though and the two seem to have a bit of a breakthrough in their final moments of the episode that makes me think this relationship has a future.  The look on Faye's face at the end in the elevator seems like she is still not on quite the same page as Don though.
Miss Blankenship had the most unfortunate story of the week, she died, but it allowed for some very inappropriately funny moments as the office discreetly move her body around.  But there was some sadness thrown in as well as her passing affected both Roger and Burt as she had been with the two for seemingly forever and while the rest of the office jokes at her passing they solemnly mourn.  I particularly enjoyed Burt's eulogy, "She was born in a barn and died on the 35th floor of a skyscraper; she was an astronaut."  She will be missed but it was time for her to go, but I didn't think she would go out like this, and with such hilarity.
The last woman to get her due this week was Joan as she rekindles her old flame with Roger after a mugging.  The two were content with idly continuing their harmless flirting, Roger even apologizing for continuing his flirtatious ways after he learns that Joan's hubby is going straight from Basic to Vietnam.  In the heat of the moment after they were robbed at gun point the two step into an ally way and proceed to go at it in a fit of passion.  Joan tells Roger she isn't sorry but that she is a married woman and that is that, while Roger tries to get her to admit that there was something there still and that he feels it.  To be continued…
Bullet Time:
-Miss Blankenship was good for some laughs, but I am not terribly sad to see her go.  In fact I laughed quite a bit at her demise.  Peggy yelling at Sally was the best bit to come out of that moment though.  Or the fact that Pete was only in that one moment of the episode.
-Speaking of Pete, where the hell has he and Lane been as of late, especially as they are two of the three main cogs of the company.
-Cooper has no balls and no office, it's a damn shame.
-Cooper covering Blankenship's funeral was a nice touch as well for the sweet old lady.
-A number of solid Sterling lines this episode, but his seemingly not so joking fear of dying in the office is a bit surprising.
-The Sally/Betty relationship is going to come to blows sooner rather than later, I just hope Sally comes out ok on the other side.
And that will about do it, all caught up and I will see you next week!