Another Take By Zac: Film Review: The Social Network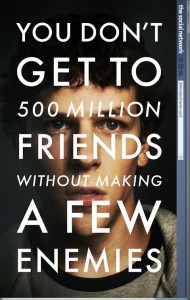 David Fincher's latest is forever going to be known as "the Facebook Movie" but it will also be held up there with his finest works which is a filmography very few directors can touch.
The Social Network is a look at the creation, rise, and legal woes of Mark Zuckerberg and his Facebook in a rare biopic in which its subject is not only still alive, but flourishing.  Facebook is currently worth 25 billion dollars and growing and the story to how it came to be is quite remarkable actually.  From the opening frames of the film we are prepared for the personality of Mark Zuckerberg.; he is smart, sharp, quick, and kind of an asshole.  And that might lose some people along the way, rooting for a guy who shows his brilliance and is deserving of his success but he is fully aware of all it and not afraid to rub it in people's faces.  Personally, I love this version of Mark Zuckerberg that Aaron Sorkin, Fincher, and Jesse Eisenberg have created.  He is every adjective I have used above to describe him and quite funny to boot.  Eisenberg shines particularly bright in the deposition scenes inter-cut throughout the film as he sits idly by, nodding in agreement, before unleashing a whirlwind of hostility that dissipates as quick as it arises.
Keeping the straight forward story fresh is some brilliant editing and camera work by Fincher and his team as the movie plows through its two hour run time.  Not wasting a second the film is overloaded with language and information to digest and it is a marvel that they crammed so much into such a short runtime.  Apparently the script was 160 pages which would normally translate to a two hour and forty minute movie but Fincher and his cast got it under two.  Bring those listening ears ready to go.  A lot of the dialogue comes from the fast talking Zuckerberg as he figures out something for his sites, rattling off jargon over most of our heads, so don't feel so bad if you feel a little lost.
Fincher's film is a technical treat above the compelling story of creation, greed, and power that subtly wow's from start to finish.  From the incredible editing, only topped by Scott Pilgrim so far this year, some greatly constructed shots, and some sneaky and perfect uses of special effects are so seamless and smooth you don't even realize they are in play.  Trent Razor and Atticus Ross's score is ominous and moody that fits the film's tone perfectly; which is surprising given the films up beat pacing.  I can't remember the last film to handle jumping back and forth through time so effectively and efficiently either.
I mentioned how great Eisenberg is as Zuckerberg before but I could go on with the praise.  He is likable and deplorable all at once at times and he really makes you squirm trying to figure out your feelings about him.  The confidence he carries radiates through the screen as well as he commands every scene he is in.  Even when he slinks in the corner his presence is never lost.  Andrew Garfield plays Eduardo Saverin, Facebook's #2 and CFO, and his unfortunate parting of ways with the company allows for Garfield to play the most human character in the film; even if he is a rich Harvard kid.  Garfield, along with Justin Timberlake, take center stage in the film's final act as the two characters struggle to be the one at Zuckerberg's side.  Timberlake plays Sean "Napster" Parker who gets mixed up with Facebook in its budding stage.  Timberlake brings his swagger and cool to the character and you can easily see how Zuckerberg gets wrapped up in what he is selling.  Lastly, Armie Hammer is great as brother's Winklevoss and he gets to deliver a number of the film's best lines, from two character's mouths.
In the end, The Social Network is an incredible story paired with an incredible filmmaker and both will endlessly impress.  Full of great acting, brilliant pacing, wonderful directing, and a story that is almost unbelievable.  Children of the Facebook age will feel a sense of nostalgia and connect with the film even more as you realize how you were a part of something phenomenal while it was still a little upstart idea.  The film's protagonist is an interesting one and very well might turn off some, but the film's power to entertain and compel should keep you around beyond that.  Fincher proves again why he is one of the best in the business and in his most grounded and pedestrian effort he manages to still create great cinema.
The Social Network is an A