Another Take By Zac: Film Review: The Green Hornet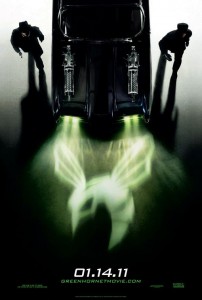 Michel Gondry with Seth Rogen and Evan Goldberg's script has crafted a funny and action packed comic book/buddy picture that, while a bit long, is a fun start to 2011.
Britt Reid is an heir to a media empire that has always been a playboy running amuck around town.  No responsibility and an endless stream of cash have allowed Britt to run around causing endless debauchery into his twenties.  When his father suddenly dies, Britt is left with an empire at his finger tips and he decides to use his new media influence to propel his crime fighting career he spawns with his family's mechanic, Kato.  After an encounter with some ruffians one night, Britt and Kato armor up their muscle car and with the unknowing help of Britt's bright secretary, Lenore, they begin to hunt down the city's criminals as criminals.  This is much to the chagrin of the city's current crime boss, Chudnofsky, and the crime fighting duos path is bound to cross that of this vile overlord.
The Green Hornet's script feels like a spiritual cousin to the writing pair's previous effort, Pineapple Express.  Rogen and Goldberg turned the weed movie into an action/comedy and they turn the action comic book film into a buddy comedy; that still has plenty of action.  In fact it has a lot of action and Gondry has a lot of fun with it.  This is his second best film in my book but it is sadly his least inventive.  Sure there are a few nice visual touches here and there, Kato vision being sorely under used, but the film is fairly straight forward action fare.  That is not to say that it isn't good action.  The Black Beauty is full of surprises and is a great toy for Gondry, Kato, and The Green Hornet to play around with.  The car chases are quite fun and exhilarating and there are some equally exciting fisticuffs and shootouts.   The action highlight of the picture is an extended one on one brawl that takes full advantage of every element in the room around it.  Props to Goldberg and Rogen for injecting plenty of humor into the action as well; equal to their work in Pineapple Express.
As for the 3-D, yes it is post-converted.  No it doesn't look bad.  In fact I would go as far as to say that it looks good.  You shouldn't go in expecting some breathtaking 3-D presentation, but it does look good.
The humor in the film is driven by a great and childishly joyful Seth Rogen who plays Britt with such glee and energy that I couldn't help but be wrapped up in his pursuit of justice.  His script gives him a lot to work with and Rogen keeps getting stronger and stronger as a leading man.  Rogen works wonderfully alongside Jay Chou and the two have an undeniable chemistry.  Chou makes his American film debut here and, while he is a bit tough to understand at times, he has some decent comic timing that works well alongside Rogen.  Chou definitely can handle the action beats though and will thoroughly impress with his kung fu ass kicking.  Cameron Diaz pops up about a third of the way through the picture and does a nice job in the Lenore role.  Christoph Waltz is a shell of the villainy he displays in Inglorious Basterds but that is mostly due to the fact that he is unfortunately the most underwritten and poorly conceived character in the picture.  Tom Wilkinson and Edward James Olmos are both exactly what they need to be in their small roles but I would have loved to have seen both of these guys get more to do.
In the end, The Green Hornet is a quite a fun time with another quality comic turn by Seth Rogen in the lead.  Full of action, a fun buddy relationship, and driven on by a strong directorial turn by Gondry the film has plenty to enjoy.  While it is a bit long in the tooth the finale is a nice action set piece to go out on and it is worth the wallowing.  Don't judge this film without seeing it as there is a very good action/comedy here for you to enjoy and I don't suggest you miss it.
The Green Hornet is a B/B+ (sorry for the indecisiveness)