Another Take By Zac: Film Review: Hall Pass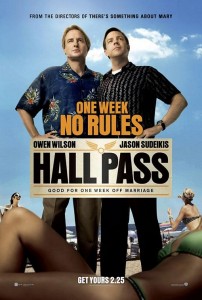 The latest from the Farrelly Brothers has a bit of an identity crisis, it doesn't know if it wants to be crude (which rarely works here) or sweet (which does kind of work) and it never finds the right balance.
A Hall Pass is a week off from marriage with no consequences for any and all infidelities.  Rick and Fred each earns their respective passes for different dalliances in passive sexual aggression and plan a week off from their wives as they send them off to the family beach house.  Back at home, the boys dive into their week of freedom while their friends attempt to live through them vicariously to rather mixed results.
The way the situation unfolds seems quite natural and believable and the way the guys start off their week seems just about perfect.  As the week roles on and their situation plays out, the boys find that their week of freedom might not be what they at all expected.  The women on the other hand find the freedom to be far more advantageous for them as they uncover some unexpected fun on their end of things.
The humor is strongest when it is focused on the characters and their emotions reacting to their hall pass week.  From realizing they don't know what to do with them selves alone, not knowing where to find women, or having any sort of clue of how to pick them up when they find them.  It is when the film goes for the gross out gags that thinks really tend to fall flat.  A couple of the bits do work, a pair of penises delivers the biggest laughs, but most don't work nearly as strong as they would like.  Some how falling the most flat is a complete waste of Richard Jenkins.  Jenkins is one of the best actors working and he is completely unfunny as the boys' sleazy single buddy that shows up in the third act.  Like most of the cruder jokes, he made me chuckle once or twice but not much else.
The film had potential and takes advantage of a few of those elements from time to time.  Owen Wilson is sharp and gives us a bit of a different look then normal; more matured and less of swagger.  Christina Applegate and Jenna Fischer are both fairly strong in their parts but I will say that I wish that Applegate didn't get stuck playing the bitchy wife role in every movie.  Jason Sudeikis does all right in his biggest role to date as well though I feel like he could have been better used as well.  The Farrelly's just failed to take advantage of their cast I feel.  J.B. Smoove and Stephen Merchant are both criminally underutilized as well, but they pretty much make up for it with the fantastic after credit bit with Merchant.  Nicky Whelan does a pretty good job stepping into the spotlight in her first major role and more than fits the sex appeal side of things.  The worst thing a comedy can do is not take full advantage of the talent they have.
In the end, Hall Pass is too big of a mess to overcome its few bright spots.  The talent is there in front and behind the camera but it rarely crystallizes into anything special.  The Farrelly's continue to fail to recapture some of their earlier success in their recent work to this viewer but a lot of people seemed to eat it up in the theater.  If you go in looking for some cruder jokes you might find something to hold on to here, but unless really interested I don't know if you should bother spending your time with Hall Pass.
Hall Pass is a D+