ANOTHER EARTH Opens in St. Louis on August 12! Enter to Win Tickets to see the movie!
Enter for your chance to tickets for two!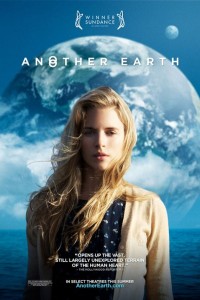 Rhoda Williams, a bright young woman accepted into MIT's astrophysics program, aspires to explore the cosmos. A brilliant composer, John Burroughs, has just reached the pinnacle of his profession and is about to have a second child with his loving wife. On the eve of the discovery of a duplicate Earth, tragedy strikes and the lives of these strangers become irrevocably intertwined. Estranged from the world and the selves they once knew, the two outsiders begin an unlikely love affair and reawaken to life. But when one is presented with the chance of a lifetime opportunity to travel to the other Earth and embrace an alternative reality, which new life will they choose?
Starring: William Mapother, Brit Marling, Kumar Pallana, Jordan Baker, Robin Lord Taylor
Directed by: Mike Cahill
In order to enter the contest, become a fan of ReviewSTL on Facebook and share ReviewSTL.com with all your friends (click the "share" link on the bottom-left side of the page). Then leave a comment under the contest post, telling us why you want to see the movie – then like the post to complete your entry. NO PURCHASE NECESSARY. PLEASE REMEMBER TO READ THE RULES!
Good luck! We hope to see you at the movies!
Watch the trailer below:
[hdplay id=399]