Angelina Jolie Pulls Out of "Wanted" Sequel for Cuarón's "Gravity"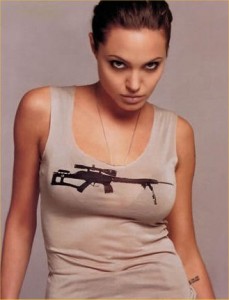 Angelina Jolie has pulled out of Universal's sequel to Wanted, where she played assassin, Fox.  The sequel was supposed to once again star James McAvoy as Wesley Gibson, and be directed by the helmer of the first film, Timur Bekmambetov. Rather than recast the role Universal is apparently scrapping all plans of a sequel.
Instead Jolie is said to be joining the cast of Gravity, a sci-fi thriller by Alfonso Cuarón who wrote the film with his 28 year old son, Jonás Cuarón. Jolie would be the main star of the film, and it would include a lot of solitary time on screen. She places the sole survivor of a space mission who is trying to make her way back to Earth.
I can't really say I blame Jolie. I don't know why she would be needed in the sequel of a film where she died. Also, I respect Bekmambetov as a brilliant newcomer in the action genre, but he doesn't hold a candle to Alfonso Cuarón, who easily has to be one of the best directors currently working in Hollywood.