The Hidden Gem – "Anastasia"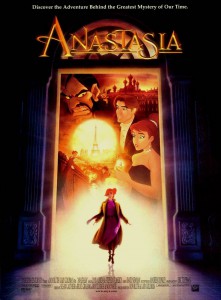 This week's film that is featured will forever be ingrained in my memory forever. First, I love the film, and second, for the story I'm about to tell you. When I was in fourth grade, I was unpopular (which isn't really a surprise since I was a movie nerd then). I was sitting at the lunch table and all of the kids were talking about how they saw "Flubber" that weekend, and that it was hilarious. I decided to chime in and say I also saw a really great movie, "Anastasia." This did not help in my popularity. So this week's film, "Anastasia," is selected because no one in my grade school class saw it.
When the dark shadow of revolution falls on he house of the Romanovs, the royal family's youngest daughter, Anastasia, barely escapes the siege. Ten years later, the Grand Duchess knows herself only by the name Anya due to amnesia. But Anya holds memories of a past full of palaces and parties. In order to discover more about this past, she travels to Paris with two con men, Dimitri and Vladimir, who plan on passing her off as Anastasia to collect the reward money offered by the Empress for the return of her granddaughter, but what they don't realize is that they have the real Anastasia. And what's worse, Rasputin will not rest until he sees the last Romanov dead.
Two things to know about me:
I love animated movies.
I love musicals.
This is an animated musical that I have enjoyed of the years just as much as the classic Disney musicals. The animation is beautiful. One shot I remember perfectly is towards the beginning of the film where you see an entire town square singing and dancing. While not all of the songs are going to stay with you two days after watching the film, there are two or three that you will certainly be humming to yourself later.
The voice cast is great with a lot of top talent. Meg Ryan voices Anastasia who gives the perfect balance of a young girl trying to find her way in the world and a tough chick who can handle herself. John Cusack voices Dimitri who is perfect as the young con artist just trying to make a buck. Other great voices include Kelsey Grammar, Christopher Lloyd, Hank Azaria, Bernadette Peters, and Angela Lansbury.
Have you seen this movie? What do you think? Do you have an idea for a hidden gem that should be spotlighted here? Let us know below in the comments.