AMC's The Prisonser Mini-Series Trailer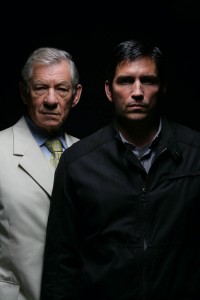 This is a nine minute trailer for the re imagining of the the 1968 show The Prisoner.
From AMC.com:
In November, AMC will present The Prisoner miniseries, a reinterpretation of the British 1960s cult hit series starring and co-created by Patrick McGoohan.
The Premise : A man, known as "Six," finds himself inexplicably trapped in "The Village" with no memory of how he arrived. As he explores his environment, he discovers that his fellow inhabitants are identified by number instead of name, have no memory of any prior existence, and are under constant surveillance. Not knowing whom to trust, Six is driven by the need to discover the truth behind The Village, the reason for his being there, and most importantly — how he can escape.
Jim Caviezel (The Passion of the Christ , The Thin Red Line) will play the role of "Number Six" and two-time Oscar Winner, Ian McKellen (Lord of the Rings, The Da Vinci Code) will co-star as "Number Two."
The Prisoner miniseries is a co-production of AMC and ITV Productions; the deal was brokered by Granada International, which holds international distribution rights. Bill Gallagher (Conviction, Clocking Off, Lark Rise To Candleford) serves as writer and executive producer, along with Michele Buck, Damien Timmer, Rebecca Keane, and AMC's Charlie Collier, Christina Wayne and Vlad Wolynetz. It is produced by Trevor Hopkins (Dracula, Poirot).
I think this looks absolutely incredible. I am almost at a loss for words at how good this looks. Let's hope it is as good as this extremely long trailer makes it seem.