AMC's "The Killing" Season One Episode Eleven "Missing" Review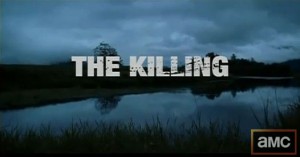 Episode Eleven, "Missing", of The Killing was one of the most pointless episodes yet!
Basically, about thirty-seven of the fourty-two minute episode (total time without commercials) is spent with Detectives Holder and Linden searching for Jack, Detective Linden's son who turns up missing. The episode also includes Holder trying to reconnect with his long lost sister and nephew by a school carnival. Right at the end of the episode Linden finds Jack walking into the hotel where they are staying, and when she asks where he was he states that he was with his deadbeat father.
Now for the important part of the episode, where we start at the casino where last week's episode ended. Turns out that it's an Indian Casino and it is not covered by state or local jurisdiction, and they are not willing to release any information about the night of the murder. One thing that Linden discovers is that the ATMs in the Casino are not covered by the same laws and she sets out to have the ATMs' cameras checked. At the end of the episode, as Holder is looking through the surveillance videos from the ATMs, we see Rosie show up.
The episode basically didn't include anything that was relevant in the case of Rosie Larsen….well, other than the ATM video that is. Actually, the entire episode barely left the side of Linden and Holder. We usually check in on the Richmond campaign and see what is going on with the Larsen family, but this episode didn't even make mention of them. It rarely focused on the case at all. We just got Linden and Holder the whole time. It was a character development episode for Linden and Holder…..even though the entire series is based around this case and we didn't need a character development episode this late into the season.
With all that being said, I am still looking forward to see what they do with the final two episodes of the season, and am hoping that the show can get back to where it was at the beginning and go out with a bang.