Allyson Ames, Chef at Wonderland Bakery, Named One of the Richest "Kids" in America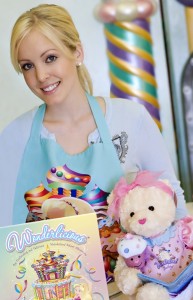 23-year-old Allyson Ames, chef and co-founder of Wonderland Bakery in Newport Beach (California), has been named one of the richest kids in America by Mark Victor Hansen. Hansen is the creator of the "Chicken Soup for the Soul" franchise. He is writing a new book, titled "The Richest Kids in America," in which he has names Ames as one of them.
Allyson Ames will be on "The Today Show" on NBC, August 3rd, and "Squawk on the Street" on CNBC, August 11th.
From the Wonderland Bakery website:
The story of Wonderland Bakery is as sweet and satisfying as the delectable, award-winning creations that are winning the specialty bakery legions of fans in Orange County, California and beyond.
The one-of-a-kind bakery, which opened in fall 2005, is bursting with tasty cupcakes, cakes, cookies and other desserts, as well as shelves of unique and whimsical Wonderland Brand gifts. Newport Beach has declared Wonderland Bakery its "Official Sweet Ambassador'' and creator of the city's official cookie, cupcake and cake.
But there's more to Wonderland than a growing number of accolades and tempting treats. The bakery, with its sugar-coated interior of sparkling rainbow hues, flowing chocolate fountain, and the comforting aroma of freshly baked goods, embodies the story of a loving mother and daughter whose close ties at home have developed into a thriving bond at work. Sondra and Allyson work and live out their dream at Wonderland Bakery, whose key ingredient is love.
Chef Allyson Ames, 21, began cooking breakfast for her mother when Allyson only was 5. The Newport Beach girl's prodigious culinary skills blossomed, and by the time she was a teen, Allyson was named Best Young Chef in America.
As Allyson was racking up praise as a serious culinary professional, her mother, Sondra, was establishing herself as a successful business woman and well-known philanthropist with a particular focus on empowering women and children.
Wanting to help make her daughter's dream of owning her own bakery a reality, Sondra Ames threw her business smarts and marketing prowess into the Wonderland Bakery concept full time, spending two years with Allyson conceptualizing, planning and designing the gourmet destination spot.
Allyson whipped up a dazzling array of baked goods, crafting exquisitely creative confections that have to be seen and sampled to be believed.
Today, Allyson works with a team of talented chefs to create their own eye-popping goodies and to bake custom creations for customers. Allyson's designer delicacies have won her many well-known fans, including Lakers star Kobe Bryant, who lives nearby and the bakery has been nicknamed, "Bakery to the Stars" with their celebrity clientele.
Still, it's a true team effort at Wonderland Bakery, with Allyson and Sondra Ames proving that with talent, love and lots of hard work, any dream can become possible – and that by never compromising on quality and excellent customer service, praise will follow.
Allyson has been honored with numerous honors, including the Orange County Business Journal's up and Coming Woman in Business Award in 2003.
Among Sondra Ames' latest awards is the Business Mother of the Year, given each year by Maternal Outreach Management System MOMS to recognize women who best embody the organization's values of empowering women and children.
Wonderland Bakery has a host of exciting projects in the works, including an Allyson Wonderland Gund Bear, which will debut this fall. The plush bear is the only animated talking bear that Gund, one of America's 50 most recognizable brands, is creating nationally and internationally. A beautifully illustrated children's book that tells the story of Allyson, her mother and the creation of Wonderland Bakery will accompany the release of the Allyson Wonderland Bear and a Wonderland Wonderlicious Cook Book for Kids. Also, a porcelain tea party set by Department 56 with Mommy and Me aprons that match the Gund Bear apron in Wonderland Bakery custom designed fabric print, bake sets and other whimsical and imaginative gift for Young Chefs.
Wonderland Bakery, located in the heart of affluent Newport Beach, offers local delivery and nationwide shipping. In addition to selling baked goods for takeout, the full-service bakery also provides a gift concierge service, special event planning, a corporate giving program and even private parties for kids to design their own cupcakes and cookies.
Check out the Wonderland Bakery website at WonderlandBakery.com.