Alicia Keys Gives Birth to Baby Boy, Egypt Daoud Dean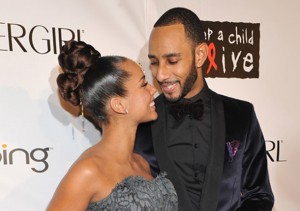 Alicia Keys is not only a newlywed to famous hip hop producer, Swizz "Kaseem Dean" Beatz, but the two are now parents of a baby boy, Egypt Daoud Dean.
"There is no word to properly describe LOVE, to describe BLISS, to a express a FEELING like this!!!", Keys stated on her official Twitter account.
"Much love for all the support everybody been showing but I want to shout out my Wife for being bigger then SUPERWOMAN!#GODSGIFT," husband Swizz Beatz said on his Twitter account, after the birth of their son.
The couple announced in May that they were expecting, and wed in July in a ceremony on the French island of Corsica. This is the first child for Keys, and fourth for Dean.
What do you think? Let us know in the comments!