'Alice in Wonderland' Beats Three New Releases to Remain # 1 at Box Office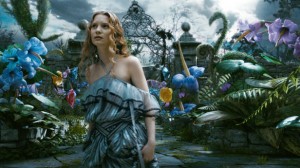 Tim Burton's fresh take on the classic story of "Alice in Wonderland" cleaned house at the box office this weekend (read our reviews here).  The film, which has now held the top position for two weeks, defeated three new releases by bringing in $62 million during it's second week. 'Alice' earned more than all three of the newcomers combined.
Paul Greengrass' new political thriller "Green Zone" starring Matt Damon came in second with $14.5 million.  In third place, the new comedy "She's Out of My League" starring Jay Baruchel and Alice Eve brought in $9.6 million.  Robert Pattinson and Emilie de Ravin's romantic drama "Remember Me" didn't quite bring in 'Twilight' numbers.  The film opened in fourth at $8.3 million.
In only it's second week in theaters, "Alice in Wonderland" has become the third highest grossing 3D film of all time.  Second place belongs to Disney-Pixar's "UP," and first place of course belongs to the box office behemoth "AVATAR."
Here are the top box office results for the weekend of Friday, March 12:
TW
LW
Title (click to view)
Studio
Weekend Gross
% Change
Theater Count / Change
Average
Total Gross
Budget*
Week #

1

1

Alice in Wonderland (2010)
BV
$62,000,000

-46.6%

3,728

–

$16,631

$208,625,000

$200

2

2

N

Green Zone
Uni.
$14,535,000

–

3,003

–

$4,840

$14,535,000

$100

1

3

N

She's Out of My League
Par.
$9,600,000

–

2,956

–

$3,248

$9,600,000

$20

1

4

N

Remember Me
Sum.
$8,300,000

–

2,212

–

$3,752

$8,300,000

$16

1

5

3

Shutter Island
Par.
$8,140,000

-38.5%

3,356

+178

$2,426

$108,008,000

$80

4

6

N

Our Family Wedding
FoxS
$7,600,000

–

1,605

–

$4,735

$7,600,000

–

1

7

5

Avatar
Fox
$6,600,000

-18.7%

1,718

-445

$3,842

$730,344,000

–

13

8

2

Brooklyn's Finest
Over.
$4,290,000

-67.9%

1,939

+3

$2,212

$21,351,000

$17

2

9

4

Cop Out
WB
$4,230,000

-54.5%

2,882

-268

$1,468

$39,442,000

$30

3

10

6

The Crazies
Over.
$3,650,000

-48.4%

2,359

-120

$1,547

$33,358,000

$20

3

12

9

Crazy Heart
FoxS
$3,125,000

-5.7%

1,361

+87

$2,296

$34,203,000

$7

13

11

7

Percy Jackson & The Olympians: The Lightning Thief
Fox
$3,125,000

-39.0%

2,175

-819

$1,437

$82,318,000

$95

5