Alice Cooper and Marilyn Manson Come to the St. Charles Family Arena for 'Masters of Madness' Tour (6/25)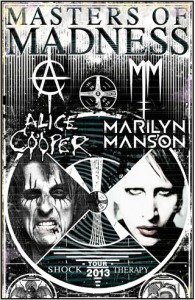 In what some may describe as a dream pairing, Marilyn Manson and Alice Cooper have teamed together the "Masters of Madness" tour, which will hit the St. Charles Family Arena on Tuesday, June 25. Both Manson and Cooper are each considered shock rock kings of their respective eras.
Cooper made his splash onto the rock scene in the 70s and 80s. With popular hits like "School's Out", "Feed My Frankenstein", and "Poison," Cooper is widely viewed by many as the inventor of shock rock, while Manson has not only embraced the shock rock label, but taken it even more over the line, at times walking the line between shocking and obscene.
Having grown up in the late 80s and early 90s, my exposure to Cooper was not as first-hand as Manson's. My first memory of Alice Cooper was his video for "Poison." I also remember him from his appearance in Wayne's World. While Cooper last put out an album in 2011, Manson is still going strong. The controversial musician just released "Born Villain" in 2012.
Many of Manson's fans probably consider Cooper to be G-rated by today's standards, but years ago, the shock rocker was banned by many rock stations for his dark and violently theatrical music. Manson has been subject of protests in city after city throughout his career, while selling millions of records to goth-rock lovers. While still vilified by many, his shock value has decreased over the years, if you ask me.
When Manson hit his height of popularity, I was in high school. I can remember thinking he was the devil reincarnated. After a few years of thinking Manson was the anti-christ, I had a chance to read an interview with him following the Columbine shootings. He came across as a genuinely intelligent person. His comments and his views made sense. I then read his auto-biography, "A Long Hard Road out of Hell." While dark and twisted, the book showed that Marilyn Manson was not really a person, more of an act. Brian Warner was the person  – that's Manson's real name if you didn't know.
So, now in 2013, we get the two musicians who put shock rock on the map. While they may not be at the top of the rock industry anymore, the pair is still very relevant in the minds of their loyal fans. The "Monsters of Madness" tour rolls into town on Tuesday, June 25 at 7 p.m. at the St Charles Family Arena.
For more information, and to purchase tickets, visit familyarena.com.