If you still haven't purchased your tickets to the 10pm showing of The Twilight Saga: Breaking Dawn – Part 2 next week, there is still time! Grab your seats at the Great Escape Gravois Bluffs here.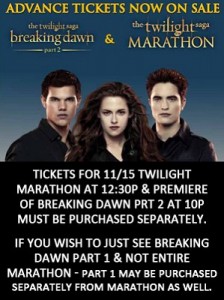 See the past four Twilight films on Thursday, November 15 starting at 12:30p for just $12.50! Tickets include: Twilight, New Moon, Eclipse, & Breaking Dawn Part 1 BACK TO BACK! (Note: tickets to BREAKING DAWN – Part 2 at 10:00pm must be purchased separately). Click here to purchase tickets to the Twilight Marathon.
Synopsis: After the birth of Renesmee, the Cullens gather other vampire clans in order to protect the child from a false allegation that puts the family in front of the Volturi.
Our friends at the Great Escape Gravois Bluffs were kind enough to give us a few pairs of tickets for the 10pm show to our biggest fans! In order to enter the contest, "like" ReviewSTL.com on Facebook – then leave a comment below telling us why you are the biggest 'Twilight' fan in St. Louis. You can post a story, link to a picture of you as Edward for Halloween, or whatever it takes to prove you are the #1 Twilight Fan in St. Louis!
To make sure you won't miss out on The Twilight Saga: Breaking Dawn – Part 2, make sure to buy your tickets here before they are sold out!