Adam Sandler to play ugly woman.
Ok, what Sandler really is doing is playing two roles in his next film, Jack and Jill. He will play both title characters. I can't imagine Sandler being a good looking woman. Apparently $49 million dollars will be going into the budget to correct this problem. Just kidding of course, I'm sure it will be played to maximum comedic effect by the famous comedian. No idea of what the story is about, other than a romantic comedy. Sandler hasn't had a hit along the lines of Billy Madison or Happy Gilmore lately, hopefully he can end that streak soon.
From Variety.com:
---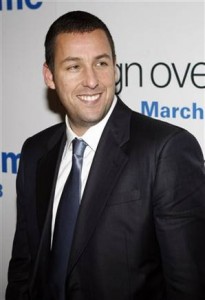 Adam Sandler is climbing up the hill for Columbia Pictures.
The actor will next star in the romantic comedy "Jack and Jill" and produce via his Happy Madison shingle. Sandler will play Jack as well as twin sister Jill.
Project was brought to Happy Madison by Todd Garner ("Paul Blart: Mall Cop"), who will also produce alongside Sandler's partner Jack Giarraputo. Steve Koren, whose relationship with Sandler dates back to their "Saturday Night Live" days, penned the screenplay.
"Jack and Jill" is scheduled to begin lensing early next year and will be released by Sony in early 2011.
Sandler, who starred in Universal's Judd Apatow-helmed "Funny People," will next be seen in Sony's high school reunion comedy "Grown Ups" and will also lend his voice for MGM/Sony comedy "Zookeeper."
He is repped by WME and Brillstein Entertainment.
---
I liked Sandler in Funny People, even if his character was a bit shallow and selfish. I've only ever heard great things about Sandler off set, and what a nice guy he supposedly is. So, it is hard not to root for the guy. I just wish he would start making some funnier movies. I don't know if he is the right age for the brand of comedy he was once famous for. I'm hoping he continues to fall into more dramatic roles, which is where he has really started to shine.