17 Photos From 'The Bible' Miniseries Premiering March 3 on History, Blu-ray/DVD to Follow
What better day than Sunday to talk about the upcoming miniseries on History – The Bible?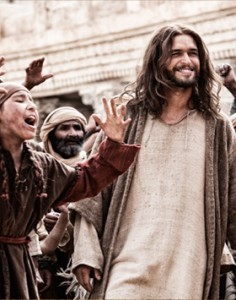 The ten part series, produced by Roma Downey and Mark Burnett, premiers March 3 and will air weekly for the five weeks leading up to Easter Sunday (March 31 this year). Here is the weekly breakdown:
WEEK 1 : IN THE BEGINNING / EXODUS
Episode 1. Sacrifice of Isaac – Abraham's emotional sacrifice of his beloved son, Genesis 22:1-18.
Episode 2. Moses & the Burning Bush – Moses' calling to face his past and deliver His people out of Egypt, Exodus 3:1-17.
WEEK 2 : HOMELAND / KINGDOM
Episode 3. Samson destroys the temple – Samson uses his renewed strength to sacrifice himself and destroy the Philistine temple, Judges 16:27-31.
Episode 4. David & Goliath – Young David defeats the giant Goliath with great faith and a small sling, 1 Samuel 17:40-50.
WEEK 3 : SURVIVAL / HOPE
Episode 5: Jesus & Peter – Jesus making a fisherman into a fisher of men, Luke 5:1-11.
Episode 6: Jesus' Baptism – John the Baptist baptizes Jesus Christ, Matthew 3:13-17.
WEEK 4 : MISSION / BETRAYAL
Episode 7. Walking on Water – Christ's invitation to Peter to have faith amidst the tempest, Matthew 14:22-33.
Episode 8. The Last Supper – Christ's final fellowship and farewell to his disciples, Matthew 26:20-28.
WEEK 5 : PASSION / COURAGE
Episode 9. Pilate meets Jesus – Pilate's quest for information as he meets the Truth, John 18:38.
Episode 10. Ananias & Paul – Ananias' call to forgive and anoint his oppressor, Acts 9:10-22.
Here are 17 high resolution photos from The Bible: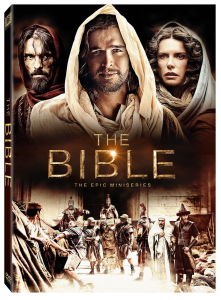 The Bible will be released on Blu-ray and DVD after the show airs on History. You can pre-order here on Amazon.
About The Bible:
From Executive Producers Roma Downey and Mark Burnett comes The Bible — an epic 10-part miniseries retelling stories from the Scriptures for a whole new generation. Breathtaking in scope and scale, The Bible features powerful performances, exotic locales and dazzling visual effects that breathe spectacular life into the dramatic tales of faith and courage from Genesis through Revelation. This historic television event is sure to entertain and inspire the whole family.