​Lafayette Square 20​12 Spring Home & Garden Tour This Weekend
If you are looking for something fun to do this weekend, the Lafayette Square Spring Home & Garden Tour takes place on Saturday June 2 and Sunday June 3.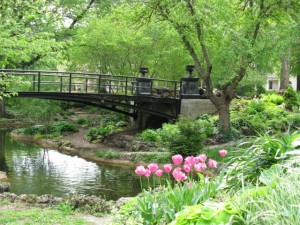 The self-guided walking tour will take you through the homes and gardens of Lafayette Square. Tours are open from 10am-5pm both days. The tour begins at the corner of Lafayette and Mississippi Avenues.
There are going to be tons of things to do, many of them included in the ticket price:
​​Antique Fair: Free. Surrounding Lafayette Park. Saturday & Sunday.
Carriage Rides: Free. Inside Lafayette Park. 11am-4pm, Saturday & Sunday.
Concert: Free. Ralph Butler Band. Lafayette Park Gazebo. 6pm, Saturday night.
Trolley: Free. 10am-5pm, Saturday & Sunday.
Vintage Baseball: Free. Lafayette Park near Park & Missouri. Saturday & Sunday.
There will be a wine festival on Saturday from 1pm – 8pm, with proceeds benefitting JVL-South  (Note there is an additional cost).
Here is a list of some of the businesses supporting the event and offering amenities:
Design Extra – 1901 Park: Refreshments, Restrooms
Fabrication Arts – 1916 Park: 10% Discount with Tour Booklet
Four Muddy Paws – 1711 Park: Lemonade, Cookies, Fresh-Baked Treats for Pets
Looking Glass Designs – 1917 Park: Cookies, 10% Discount with Tour Booklet
Park Avenue Coffee – 1919 Park: Large Outdoor Patio, Frozen Drinks, Restrooms
Ricardo's – 1931 Park: Restrooms
Rue Lafayette – 2026 Lafayette: 50% Discount on Iced Tea, Restrooms
Square One Brewery – 1727 Park: Outdoor Garden, Tastes of Rootbeer or Beer
Sqwires Restaurant – 1415 S. 18th: Gratis Beverage Station, Restrooms
Trova – 1900 Park: 10% Discount with Tour Booklet, Restrooms
Tickets cost $20 the day of tour, and are available for a discounted rate of $12 for groups of 20 or more. Children under 12 are free when accompanied by an adult.
For more information, visit the Lafayette Square website.