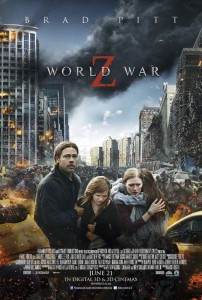 Brad Pitt's notoriously troubled production, World War Z, finally hit theaters a couple of weeks ago. Problems between Pitt and the director, Marc Forster, along with an out of control budget and extensive re-shoots all made the film look like a disaster. But luckily things turned out alright, as the film opened with a $66.4 million dollar weekend – along with a 67% from the critics on Rotten Tomatoes.
This week on "Reel Spoilers" we discuss the differences between World War Z and Max Brooks' novel, as well as the original ending. Plus we weigh in on current movie news about a Captain Planet live-action film, as well as another Avatar lawsuit for James Cameron. And Dan gives us a "Video Recovery" on Return of the Living Dead.
Reel Spoilers Episode 2: World War Z
Starring: Tom O'Keefe, Joe Buttice, Dan Graney, Blake Fehl and Kevin Brackett
Run-time: 1 hr 15 min
Subscribe to Reel Spoilers: reviewstl.com/category/reel-spoilers/feed/
Want to take Reel Spoilers on the go? Download episode 2 from TalkSTL.com.