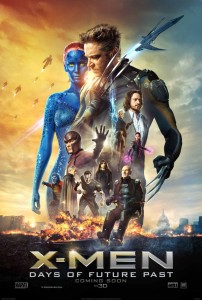 This week we return to the bunker so we can spoil X-Men: Days of Future Past.
Synopsis: The ultimate X-Men ensemble fights a war for the survival of the species across two time periods in X-MEN: DAYS OF FUTURE PAST. The beloved characters from the original "X-Men" film trilogy join forces with their younger selves from the past, "X-Men: First Class," in order to change a major historical event and fight in an epic battle that could save our future.
It's a three man show this week as Blake and Dan have gone missing…which results in Kevin concocting his own slash fiction. Plus, somehow Tom finds a way to connect the motivation of Magneto with the philosophical writings of C.S. Lewis.
It's Reel Spoilers #44 – X-Men: Days of Future Past.
You've been warned.


Starring: Tom O'Keefe, Joe Buttice, Kevin Brackett
Run-time: 1hr 11min
Subscribe to Reel Spoilers: reviewstl.com/category/reel-spoilers/feed/
Want to take Reel Spoilers on the go? Download episode 44 from TalkSTL.com.