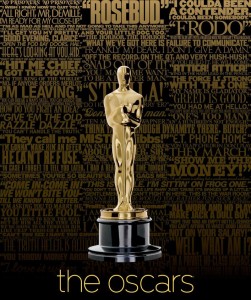 Best Picture
"Avatar"
"The Blind Side"
"District 9"
"An Education"
"The Hurt Locker"
"Inglourious Basterds"
"Precious"
"A Serious Man"
"Up"
"Up in the Air"
Who will win? The Hurt Locker.
Who should win? The Hurt Locker.
Everyone knows that this is a race between Avatar and The Hurt Locker. At one point at the end of the year there was a lot of talk about Up in the Air, but early promotion backlash hit it hard. So it doesn't have much of a chance to run home with the statuette.  The ten nominations this year really opened up the category, and for that reason there are quite a few films that never would have even been considered in previous years. The Blind Side, Up, and District 9 would have never made it onto the list had it stayed at five. The fight in this category is quality filmmaking vs. Hollywood's love for money. The love for money is very strong which gives Avatar strong chance, and it also is an entertaining film at that. However, in previous years the Academy has shown itself to be a bit of a genre snob. That image is becoming a bit more clean, but I still say they choose the gritty war drama over Dances With Smurfs.
Best Director
James Cameron, "Avatar"
Kathryn Bigelow, "The Hurt Locker"
Quentin Tarantino, "Inglourious Basterds"
Lee Daniels, "Precious"
Jason Reitman, "Up in the Air"
Who will win? James Cameron
Who should win? Kathryn Bigelow
Once again, this is a category between the two heavies of this years award season. Kathryn Bigelow created one of the best war dramas of all time, and one of the most intense films I've ever seen. Although, Cameron put his heart and soul (and not to mention time) into Avatar, and the world around it. It isn't that he doesn't deserve it, but Bigelow's vision seems to be a bit more award worthy. There are a couple dark horses in this category. The person most capable of an upset would be Quentin Tarantino who created his best film since Pulp Fiction, with his WWII spaghetti western. The academy loves awarding careers, and Tarantino is overdue. Although look at how long it took them to give Scorsese the award. Jason Reitman is now three for three on great pictures, and he has the slight possibility of an upset. However, it looks like he has a long career ahead of him. Academy members will look to reward him further down the road.
Best Actor
Jeff Bridges, "Crazy Heart"
George Clooney, "Up in the Air"
Colin Firth, "A Single Man"
Morgan Freeman, "Invictus"
Jeremy Renner, "The Hurt Locker"
Who will win? Jeff Bridges
Who should win? Colin Firth
Jeff Bridges will take home a well deserved Oscar, but Firth should be rewarded for going a bit out of his comfort zone. Firth has always been a solid actor, but he has been defined by a certain type of role. No more Mr. Darcy for him in A Single Man, this daring performance will hopefully open up new doors for the British actor. George Clooney was solid in Up in the Air, but he didn't really have to break type much to play a suave middle aged man. Why the Academy nominated Freeman is beyond me. His nomination would have been much more deserved to go to Sam Rockwell for Moon. Jeremy Renner is a bit too much of a newcomer, but wholly deserves his nomination.
Best Actress
Sandra Bullock, "The Blind Side"
Helen Mirren, "The Last Station"
Carey Mulligan, "An Education"
Gabourey Sidibe, "Precious"
Meryl Streep, "Julie & Julia"
Who will win? Meryl Streep
Who should win? Carey Mulligan
Academy members love Meryl, and she knows that they do.  I'm just glad to see her nominated for Julie & Julia over the over-rated It's Complicated. Carey Mulligan had one of the most refreshing performances from a newcomer. Gabourey Sidibe showed a lot of acting talent, but Precious' award is tied up in a win for Mo'nique.  Unfortunately, The Last Station just hasn't been promoted enough for a win, and I'm a bit surprised it got nominated. Sandra Bullock is the feel good nomination, and she might have a shot an upset. Her performance while good, was shockingly commercial for the Academy's taste. Some have suggested that she is being rewarded for her career? Please enlighten me what she does that is award worthy? Her filmography is filled with formulaic romantic comedy that managed OK box office business.
Best Supporting Actor
Matt Damon, "Invictus"
Woody Harrelson, "The Messenger"
Christopher Plummer, "The Last Station"
Stanley Tucci, "The Lovely Bones"
Christoph Waltz, "Inglourious Basterds"
Who will win? Christoph Waltz
Who should win? Christoph Waltz
The biggest upset of the night will happen if Christoph Waltz loses out on the best supporting actor award. Just about any critic worth his weight is choosing Waltz, and after a string of victories in other large award ceremonies, it seems like Waltz is a lock. There doesn't seem much competition. Matt Damon in nominated for the boring Eastwood film, Invictus, when he should instead be nominated in Best Actor for The Informant!. Christopher Plummer could be rewarded for a long overdue nomination, and win. The Academy loves to give people their due, even if their performance is not the finest of the year. Woody Harrelson is enjoying a banner year, but in not likely to win the award. If there was one sure fire bet to place tonight, I would say it is on Waltz.
Best Supporting Actress
Penelope Cruz, "Nine"
Vera Farmiga, "Up in the Air"
Maggie Gyllenhaal, "Crazy Heart"
Anna Kendrick, "Up in the Air"
Mo'Nique, "Precious"
Who will win? Mo'nique
Who should win? Anna Kendrick
This might be the weakest category of the night. I don't know if it is due to lack of strong female supporting roles or if much more deserving roles were left out. Mo'nique is the frontrunner, mainly due to her doing so well in a dramatic role. Anna Kendrick looks to be one of the most promising newcomers in Hollywood right now, and really showed there was much more too her than Twilight. Although, her Up in the Air co-star Vera Farmiga, doesn't stand much of a chance next to Kendrick. Maggie Gyllenhaal is a solid choice, but her performance was subtle enough to be ignored. It is a shame that Penelope Cruz was nominated over the far superior Marion Cotillard.
The rest of my predictions will be in bold:
Best Adapted Screenplay
"District 9"
"An Education"
"In the Loop"
"Precious"
"Up in the Air"
Best Original Screenplay
"The Hurt Locker"
"Inglourious Basterds"
"The Messenger"
"A Serious Man"
"Up"
Best Animated Feature Film
"Coraline"
"Fantastic Mr. Fox"
"The Princess and the Frog"
"The Secret of Kells"
"Up"
Best Foreign Language Film
"Ajami" (Israel)
"The Milk of Sorrow" (Peru)
"A Prophet" (France)
"The Secret in Their Eyes" (Argentina)
"The White Ribbon" (Germany)
Best Art Direction
"Avatar"
"The Imaginarium of Doctor Parnassus"
"Nine"
"Sherlock Holmes"
"The Young Victoria"
Best Cinematography
"Avatar"
"Inglourious Basterds"
"Harry Potter and the Half-Blood Prince"
"The Hurt Locker"
"The White Ribbon"
Best Costume Design
"Bright Star"
"Coco Before Chanel"
"The Imaginarium of Doctor Parnassus"
"Nine"
"The Young Victoria"
Best Film Editing
"Avatar"
"District 9"
"The Hurt Locker"
"Inglourious Basterds"
"Precious"
Best Makeup
"Il Divo"
"Star Trek"
"The Young Victoria"
Best Music (Original Score)
"Avatar"
"Fantastic Mr. Fox"
"The Hurt Locker"
"Sherlock Holmes"
"Up"
Best Music (Original Song)
"Almost There" from "The Princess and the Frog"
"Down in New Orleans" from "The Princess and the Frog"
"Loin de Paname" from "Paris 36″
"Take it All" from "Nine"
"The Weary Kind" from "Crazy Heart"
Best Sound Editing
"Avatar"
"The Hurt Locker"
"Inglourious Basterds"
"Star Trek"
"Up"
Best Sound Mixing
"Avatar"
"The Hurt Locker"
"Inglourious Basterds"
"Star Trek"
"Transformers: Revenge of the Fallen"
Best Visual Effects
"Avatar"
"District 9"
"Star Trek"
Best Documentary Feature

Best Documentary Short
"China's Unnatural Disaster: The Tears of Sichuan Province"
"The Last Campaign of Booth Gardener"
"The Last Truck: Closing of a GM Plant"
"Music by Prudence"
"Rabbit a la Berlin"
Best Short Film (Animated)
"French Roast"
"Granny O'Grimm's Sleeping Beauty"
"The Lady and the Reaper"
"Logorama"
"A Matter of Loaf and Death"
Best Short Film (Live Action)
"The Door"
"Instead of Abracadabra"
"Kavi"
"Miracle Fish"
"The New Tenants"