Zandonai's 'Francesca da Rimini' – The Met: Live in HD on Saturday, March 19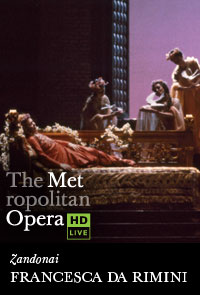 Experience the seventh season of the Metropolitan Opera's Peabody and Emmy Award-winning series The Met: Live in HD in movie theaters nationwide. The broadcast of Zandonai's Francesca da Rimini will be presented live for only one day on Saturday, March 16, 2013 at 11am central time in select St. Louis theaters:
About Francesca da Rimini
Zandonai's compelling opera, inspired by an episode from Dante's Inferno, returns in the Met's ravishingly beautiful production, last seen in 1986. Dramatic soprano Eva-Maria Westbroek and tenor Marcello Giordani are the doomed lovers. Marco Armiliato conducts.
An encore presentation of this performance will be exhibited in select movie theaters on Wednesday, April 3, 2013 at 6:30 PM in all time zones.
Visit fathomevents.com for more information.