Zach Galifianakis May Join Ryan Reynolds In "R.I.P.D"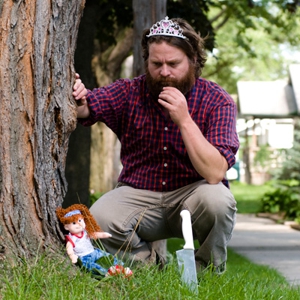 Unfortunately, due to R.I.P.D Ryan Reynolds will most likely not be doing a Deadpool film anytime soon if at all.  I blame 20th Century Fox for ruining the character in Wolverine anyway.  On the upside, R.I.P.D sounds like a pretty cool idea.  Reynolds may blow up this summer if Green Lantern does well which will result in the film becoming more high profile. 
Zach Galifianakis has decided that the film is worth his time and skill set.  The L.A. Times is reporting that Zach is currently in negotiations to co-star in the film.  Zach has two films hitting theaters this year, The Muppets and The Hangover Part II, but nothing lined up next.  I think this would be a good career move for him. 
R.I.P.D is about two dead cops, one modern policeman and one old west gunslinger, who are cops for life after death.  The film is directed by Robert Schwentke who recently directed Golden Globe nominee Red.  The only reservation I have about the film right now is that Galifianakis would be playing the gunslinger.  Doesn't really seem to fit for me.
Would you rather see Reynolds do Deadpool or R.I.P.D?  Let us know in the comments below.