WWE Monday Night Raw Review/Recap: Bray Wyatt Debut, Daniel Bryan vs Sheamus, CM Punk vs Randy Orton
This week's Monday Night Raw was pretty effective in hyping Sunday's Money in the Bank pay per view. With the debut of Bray Wyatt and the firing of GM Vickie Guerrero, the show still did a great job in promoting the upcoming event.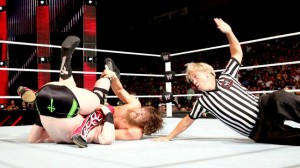 First of all, I have to say that there were two very solid matches on the show this week. Daniel Bryan vs Sheamus was pretty damn fun to watch. Bryan had a great night overall, getting the win and then standing tall on the ladder at the end of Raw. I would like to see him become a true 'face' rather than a 'tweener.' The other good match was C.M. Punk and Randy Orton. Both men are at the top of their game, and really helped build the excitement for the Money in the Bank on Sunday.
The debut was Bray Wyatt was handled well. There have been a lot of logic lapses in the hyping of this character, even on Monday's episode, but it's professional wrestling. Things don't have to be logical, that's what's so fun about it. I think the WWE could have another Undertaker-esque character with Wyatt. The way WWE handled the rise of the Wyatt's has set them apart from every wrestler on the roster, which is a good thing. They should be feared, and by taking out Kane, I think think they will be feared.
There was a negative to Raw and unfortunately it was Dolph Ziggler. He was awful on the mic this week. The excitement that revolved around Ziggler's face turn is gone and over with. The WWE writers have not helped Ziggler whatsoever. The feud he has with Alberto Del Rio could be so great, but the writers have dropped the ball.
Another part of Raw I did not care for was the Vickie Guerrero firing. This was a lame segment. I'm glad she's gone, but Brad Maddox as the new GM? Really? The segment was too long. It did a decent job building future tension between Vince, his daughter, and son-in-law, but other than that, it felt like filler.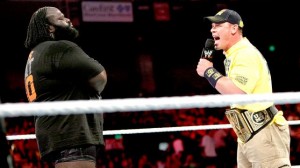 As for the WWE Champion, John Cena, it was another night of talk with the big man, Mark Henry. I don't give Henry much of a chance to win the title at Money in the Bank, and that's a shame. Again I will say it, Cena's character is so old and stale, it's almost miserable to watch. I don't have anything against the guy personally, but something has to give. I know he's the face of the company, but come one WWE! A new champion is needed, or at least someone who can be viewed as a viable threat. I think that with Summerslam on the horizon, we may get to see a viable contender in Daniel Bryan.
With the big pay per view on Sunday, it will be interesting to see who wins the two Money in the Bank matches. Unfortunately, I will be unable to watch, as I will be in Jamaica, but I am expecting and exciting return from Rob Van Dam. His return alone would make me want to watch the pay per view.
For more pictures and video, and a full reacap, visit WWE.com.
Photos © WWE.