WWE's BARRICADE Starring Eric McCormack is Out Now on DVD!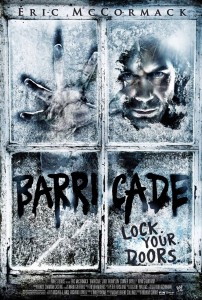 Click here to purchase BARRICADE on DVD | Blu-ray from Amazon.com
Terrence Shade (Eric McCormack) takes his children on a holiday getaway to a cabin in the woods. But when a blizzard buries the house, the family finds themselves trapped and without communication. As the storm surges on outside, a sinister presence materializes. Unable to explain it, and unable to escape it, they quickly realize that maybe they haven't locked the evil out….instead they've just locked it in.
Cast: Eric McCormack, Jody Thompson, Conner Dwelly, Ryan Grantham
Director: Andrew Currie