Wrestlemania 32 Just Got Awesome – Shane McMahon vs. Undertaker

After Sunday, I had my doubts that this years' Wrestlemania would be as grand as past Mania's had been. WWE's Fastlane was not only predictable, but besides a pair of matches from Kevin Owens/Dolph Ziggler and Chris Jericho/A.J. Styles, the payperview was a disappointment.
As Monday Night Raw opened, I was hoping to find out who would be battling the Undertaker at Wrestlemania, as nothing had been mentioned with just over 40 days till the WWE's biggest show of the year.
Rumors were all over the place, as names like Steve Austin, Goldberg, Sting and even CM Punk were being mentioned.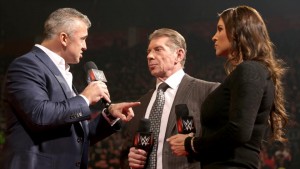 Alas, the WWE tricked us all. Out came Shane McMahon to spoil his father's Vincent J McMahon Legacy Award presentation to his daughter, Stephanie.
It was McMahon overload in the ring, as all three faced off for the first time in 7 years.
When Shane's music hit, I hollered out Holy Sh*t! at my television. The crowd could be heard chanting "Holy Sh*t for much of Shane's appearance. Yes, it was a memorable moment in WWE History.
Shane proceeded to tell Vince that he wanted control of Raw, as ratings have been in the tank as of late.
Neither Vince nor Stephanie liked this idea, leading Vince to tell Shane that if he wins a match at Wrestlemania, he can have total control over the Monday night program.
Shane accepted, not knowing the opponent. Making things even more interesting was his opponent, The Undertaker. Also, the match would be a Hell in a Cell match.
Shane never flinched, as years ago, he was quite the scene stealer, putting his body on the line in numerous matches.
This was the spark that Wrestlemania needed. Fans have been hoping for a shocker like this for years.
We also got Brock Lesnar against Dean Ambrose in a street fight. Both men are unafraid to put their bodies through hell in the ring. Fans are already placing bets on who gets bloodied first.
Despite that announcement, the night belonged to Shane-o Mac, as he was finally back after a 7 year absence. WWE fans had to wonder if they would ever see him again, as he left to start a family and dabble in his own business ventures.
It seemed like Triple H had taken Shane's spot, and done a great job in developing NXT.
But, I guess with ratings dropping and the plethora of injuries, it was time for Shane to come back. There couldn't be a better time for the WWE to have Shane back in the ring against the Deadman.
With this once in a lifetime match, Wrestlemania is once again a must-see show.