WRATH OF THE TITANS Opens March 30! Enter to Win Passes to the St. Louis Advance Screening!
Enter to win a pass good for two!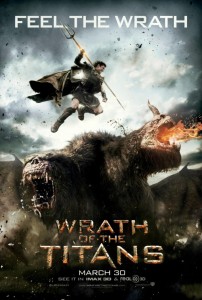 A decade after his heroic defeat of the monstrous Kraken, Perseus (Worthington) –the demigod son of Zeus (Neeson)–is attempting to live a quieter life as a village fisherman and the sole parent to his 10-year old son, Helius. Meanwhile, a struggle for supremacy rages between the gods and the Titans. Dangerously weakened by humanity's lack of devotion, the gods are losing control of the imprisoned Titans and their ferocious leader, Kronos, father of the long-ruling brothers Zeus, Hades (Fiennes) and Poseidon (Danny Huston). The triumvirate had overthrown their powerful father long ago, leaving him to rot in the gloomy abyss of Tartarus, a dungeon that lies deep within the cavernous underworld. Perseus cannot ignore his true calling when Hades, along with Zeus' godly son, Ares (Edgar Ramirez), switch loyalties and make a deal with Kronos to capture Zeus. The Titans' strength grows stronger as Zeus' remaining godly powers are siphoned, and hell is unleashed on earth. Enlisting the help of the warrior Queen Andromeda (Rosamund Pike), Poseidon's demigod son, Argenor (Toby Kebbell), and fallen god Hephaestus (Bill Nighy), Perseus bravely embarks on a treacherous quest into the underworld to rescue Zeus, overthrow the Titans and save mankind.
Cast: Sam Worthington, Ralph Fiennes, Liam Neeson, Danny Huston, Edgar Ramirez, Bill Nighy, Toby Kebbell, Rosamund Pike
Director: Jonathan Liebesman
In order to enter the contest, become a fan of ReviewSTL on Facebook and share ReviewSTL.com with all your friends (click the "share" link on the bottom-left side of the page) – telling what your favorite part of the first movie is! Then "like" the post to complete your entry. NO PURCHASE NECESSARY. While supplies last. Passes are available on a first-come, first-served basis.
Winners will be chosen at random from all entries. Supplies are limited. Limit one (1) pass per person, passes admit (2) two. Sponsor's employees and their dependants are ineligible. Screening is overbooked to ensure capacity. Please refer to passes for any other possible restrictions. No purchase necessary.
Screening is Tuesday, March 27 at Wehrenberg Ronnies 20 Cine (7pm).
Good luck! We hope to see you at the movies!
IN THEATERS MARCH 30