Win FREE Passes to "She's Out Of My League" at the St. Louis Advance Screening
ReviewSTL invites you to enter to win passes to the St. Louis advance screening of "She's Out Of My League"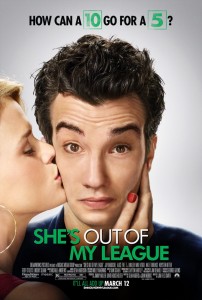 Enter for your chance to win a pass good for two!
Synopsis:
In the film, Jay Baruchel plays Kirk, an average Joe who can't believe his luck. Though he's stuck in a seemingly dead-end job as an airport security agent, against all odds Molly (Alice Eve), a successful and outrageously gorgeous babe falls for him. Kirk is stunned. So are his friends, his family and even his ex-girlfriend. Now he has to figure out how to make the relationship work, even though he's the first to admit "She's Out of My League."
In order to enter the contest, go to my.reviewstl.com and register for a free account. Leave a comment on the contest page telling us about the worst dating experience you've ever had. Winners will be chosen at random and notified via e-mail. NO PURCHASE NECESSARY. PLEASE REMEMBER TO READ THE RULES, PEOPLE WHO FOLLOW THE RULES WILL BE PICKED FIRST!

Screenings are Tuesday March 9 at the Esquire and  Thursday, March 11 at Ronnies. Please note that winning passes to "She's Out of My League" does not guarantee admission to the film. You must arrive early as seating is first-come, first-served. It is usually safe to arrive at least 1 hour or more before show time.