Win Passes to "Spy Next Door" at the St. Louis Advance Screening
ReviewSTL invites you to enter to win passes to the St. Louis advance screening of "Spy Next Door"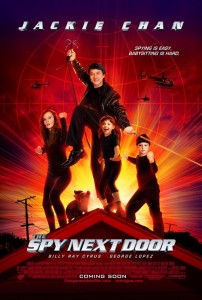 Enter for your chance to win a pass good for four!
OPENS NATIONWIDE FRIDAY, JANUARY 15TH
Synopsis:
Bob Ho is an undercover CIA superspy who decides to give up his career in espionage to settle down with his next-door neighbor and girlfriend, Gillian. But Bob has one more mission to complete before Gillian agrees to marry him: winning over her three opinionated kids. When Gillian suddenly has to leave town, Bob volunteers to babysit the children so he can earn their approval. But when one of the kids mistakenly downloads a top-secret formula from his computer, Bob's archenemy, a Russian terrorist, moves in for the attack, forcing Bob to juggle the roles of spy and prospective stepfather in the most challenging mission of his career!
In order to enter the contest, simply leave a comment at the bottom telling us what would be the coolest thing about being a spy. Winners will be chosen at random and notified via e-mail. NO PURCHASE NECESSARY.
Please note that winning passes to "Spy Next Door" does not guarantee admission to the film. You must arrive early as seating is first-come, first-served. It is usually safe to arrive at least 1 hour or more before show time!