Weekly T.V. Recap / Cut List: 10-3 through 10-9
This week was another very solid week for all of the shows that I have been enjoying so far this season.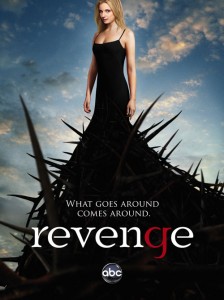 Revenge continues to be my favorite Drama on T.V., with this week being no exception. I have really enjoyed the build up to what is going to be an epic season finale…but that is still quite a bit of time away. I continue to be impressed by The Secret Circle, which I really don't get because I usually hate the programming that the teen driven CW has to offer, but this show just has that something special that I can't quite put in to words. Pan Am is another show that I can't figure out why I like, but week after week I am intrigued as to what it has to offer. Person of Interest and Unforgettable are both starting to kind of get repetitive to me, so I am hoping for something different this week. Terra Nova started off well for me but after the second week, it lost a lot of steam with a very weak episode in my eyes. I'll continue to watch, but for how long is the question. A Gifted Man is still nothing special to me and I don't see it lasting till the end of this season. Ringer is one of those shows that has up and down weeks with me and this was another one of those down weeks for the show.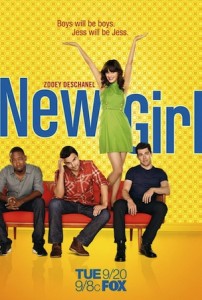 The New Girl definitely had the best week, as Comedies goes. It continues to be very clever and makes me laugh from week to week. 2 Broke Girls has got to be right up there when it comes to comedies. I highly recommend both of these new comedies. Whitney is another one of those new comedies that I am thoroughly enjoying. I will say that How To Be A Gentleman has got to be one of the stupidest shows I have seen in a while and I really don't recommend wasting your time on this….oh wait, you don't have to because it's being moved to Saturdays and basically cancelled. All the other regulars in my line of Comedy had solid weeks. Really no shows other than New Girl stood out from the pack this week.
Survivor: South Pacific and The Amazing Race continue to be amazingly entertaining and every week keeps me on the edge of my seat. If you haven't seen the episodes then I won't ruin who got eliminated from each show (but there were no surprises).
One thing that really got on my nerves this week was NBC's treatment of The Playboy Club. I have honestly really enjoyed that show and NBC decided to cancel the show after last weeks episode. This wouldn't have been as big of a deal if they hadn't left me with the cliffhanger of all cliffhangers. I really think they should have given it half a season at least but NBC decided otherwise.
The Cut List
At This point I am reporting a change in the Cut List. Instead of having the Cut Zone and -25 automatic elimination rules, I am only going to eliminate shows during Cut Weeks, which will occur every month until the very end of the Television Season.
I've also come to the conclusion that this list is kind of like the College Football Rankings, so I've decided that towards the end of the T.V. Season I'm going to devise a plan to take the average rankings of the shows and have it down to two shows for the Season Title. This week, along with the Overall Points Rankings (Media Poll) and the Quality Points Rankings (BCS Poll), I'm going to add My Personal Rankings (Coaches Poll). It will not be just like College Football in that the Quality Points Rankings, or BCS Rankings, will not decide who plays for the Season Title. It's weird because I just realized this and I'm taking full advantage of it now. I mean the shows are divided into "Divisions" and everything. I've also included a Power Rankings which puts the shows Averages on the three main list together and shows where they stand at this point.
Notes: Grimm and Once Upon A Time are two weeks from premiering so they are added to the list making the Drama Safe Zone expand to six programs. Man Up! and Last Man Standing are the same way so the Sitcom Safe Zone is expanded from 10 to 11. In Comedy this week there were problems because with the expansion Up All Night and Raising Hope were both tied in Total Point and Total Entertainment Score so it came down to Viewership Score, which put Raising Hope in front moving Up All Night to the Danger Zone for the first time.
Drama
The Drama Division this week turned out to be nothing new with the Top Four shows all remaining in their same positions. One major change was The Secret Circle making its debut in the Top Five and, with the expansion, The Playboy Club broke the Top Six in its final active week. Expect Playboy Club to fall out over the next couple weeks. The biggest disappointment had to have been Terra Nova, which fell out of the Top Six and dropped Five spots all the way to Tenth, after it debuted in the Top Five last week. A Gifted Man continues to be unimpressive and remained in the Danger Zone, and finally Ringer got killed in the ratings, once again, and is pretty much done with the first Cut Week next week.

Comedy
The Comedy Division continues to be the most competitive and this week seen another weekly winner in the likes of The New Girl, which moved four spots. After winning last week Modern Family fell to number Four for the week and Big Bang Theory fell one more spot to number three. 2 Broke Girls climbed one spot to claim the number two spot and the top five was rounded out by Parks and Recreation, which fell one spot from four to five. The Office made its return to the expanded Top Eleven and Suburgatory made its debut in the Top Eleven at Ten. Up All Night and Mike & Molly both suffered their first loses of the season. The Simpsons and Family Guy were both severely hurt by off weeks and it should change next week as they are both off again. How To Be A Gentleman remained on the bottom of the list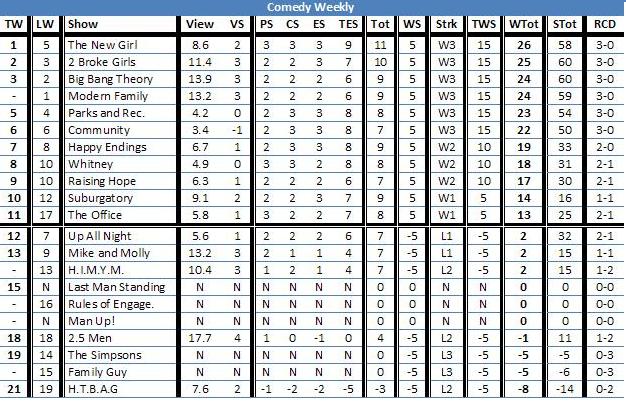 Reality
In the Reality Division both Survivor: South Pacific and The Amazing Race had very solid weeks and it came down to the ratings to determine the winner and Survivor had more viewers so it took home the win this week.

We now have a tie in the Overall Rankings because of Big Bang Theory's fallout this week and, as you may have already seen, The Weekly Score breaks ties in the Overall Rankings, so that makes 2 Broke Girls the official leader as of this week. This remains to be the close race, with five shows (including the leader) within two points of the lead. There are also five other shows within shouting distance of the lead and about six others who are within screaming distance of the lead. Basically anyone could take this. One bad week for any of these shows or an off week and they are pretty much done for because the multiplier has played a major role in the points. Look for The New Girl to start to fall because this week it isn't on because of baseball and you can expect Raising Hope to suffer the same fate, but for at least two weeks because of extended X-Factor episodes. That basically means that they both will gain no points and they also lose the multipliers that they have established, but it's still early so they will not be completely out of the race.  Ringer, How To Be A Gentleman, The Simpsons, Family Guy, and A Gifted Man are all in the bottom parts of the league with points, in the negatives, at this point. The Amazing Race fell the hardest this week, falling nine spots, but it remains in contention in the points game at number eleven. The same can not be said for The Simpsons, which fell seven spots to number thirty-one. The Secret Circle, Suburgatory, The Office, and Person of Interest all saw the biggest increases this week.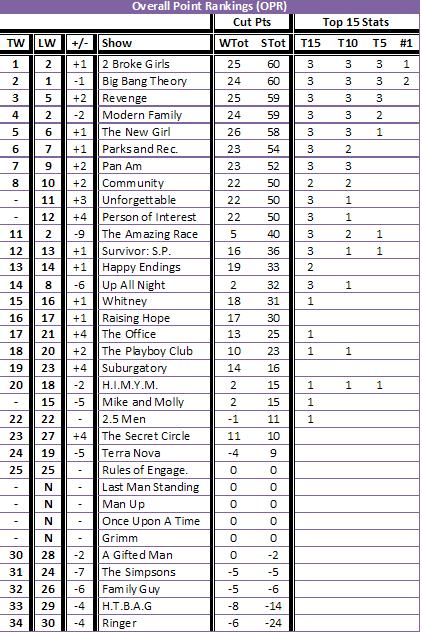 We saw major changes in the Quality Points Race this week with 2 Broke Girls taking over number one, but Big Bang Theory remains hot on the heals. The Simpsons gained the least and fell the hardest falling thirteen spots this week.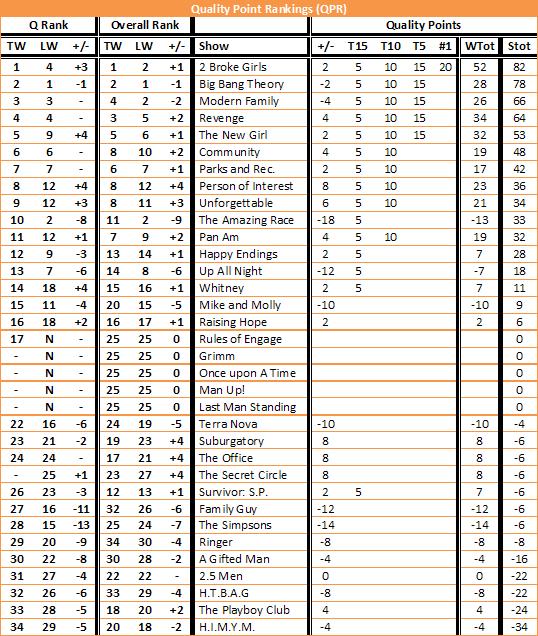 With the debut of My Personal Rankings, I ranked the shows based off of the season so far, in my eyes, as opposed to the Overall and Quality Ranking which rank shows on a week to week basis.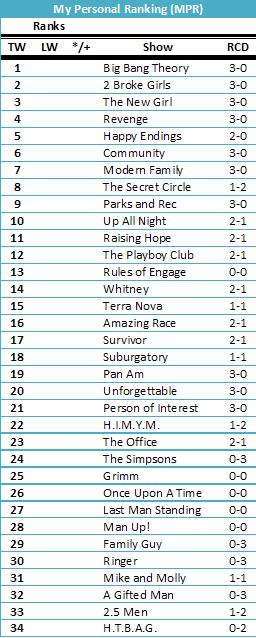 Finally the Power Rankings is the average of the first three (Overall, Quality, and My) and this will determine which shows will win this game in the long run.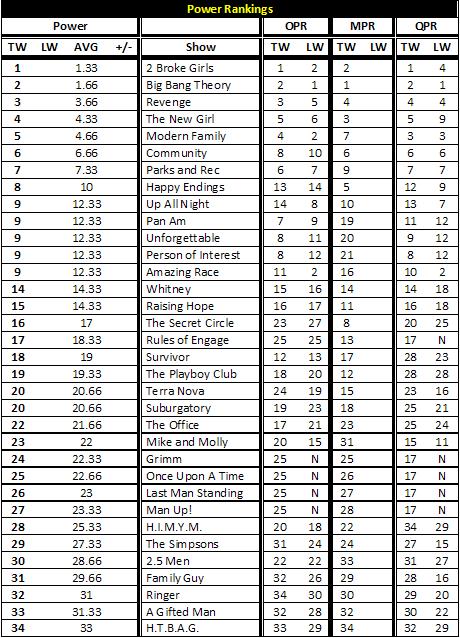 This brings us to our first Cut Week. In the first cut week I'm going to Cut the list down from 34 to an even 30 shows going from this point forward. At this point The Simpsons, Family Guy, How To Be A Gentleman, and Ringer are on the block to be cut. I'm going to go out on a limb and say that it will stay that way because Family Guy and The Simpsons will both not be on again because of Playoff Baseball, How To Be A Gentleman makes its move to Saturday this week so it will no longer receive ratings, and Ringer is way too far out to make it up in one week.