Weekly Recap / Cut List: 10-10 through 10-16
T.V. Recap
This week was definitely a great build up to the November Sweeps that will be starting in a few weeks.
The field of Drama had (in my eyes) the best week that they have had since the pilots aired. Revenge continues to be building on to what has already been one of the best new shows on Television. Emily Throne is one woman I definitely do not want to cross, but I don't think I have to worry about that because I'm not going to The Hamptons any time soon. Dr Banks was her victim this time and I couldn't find any better way to get back at someone than to play a video of the taped psychological evaluations of her patients.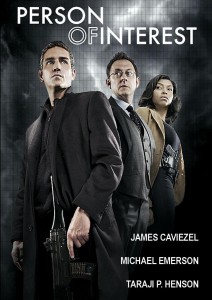 John Reese has become another person I would hate to run into. Person of Interest has  become one of those shows that is kind of all over the place from being good to bad from week to week. I mean I haven't seen a bad episode yet but it seems like some weeks are better than others…plot wise.
Unforgettable continues to dominate in the ratings and the show continues to impress me. The writing on the show is always really good and there really is nothing that Carrie Wells can't remember (as the title states). This week was no different as I felt that the storyline was better than any of the other episodes.
Pan Am continues to impress me…despite low ratings and subpar reviews. The ladies know how to have a good time and the plot continues to thicken each week with their resident CIA Agent, Laura Cameron (FYI she's a flight attendant) and the tensions between the pilots. I am on board (pardon the pun) for Pan Am each week.
A Gifted Man continues to be the one show that is still on the bubble for me liking/not liking. I mean I see where it has its good points but I just can't get past the whole "talking to ghost" feel to the show. I think it's going to get better with the addition of Dr Kate Sykora to the clinics staff.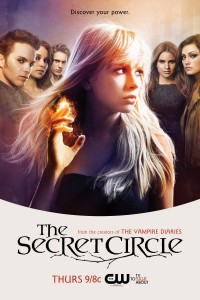 One of my favorite shows on Television has got to be the CW's The Secret Circle. I told myself going in that I'm really only watching this so I can have a show on the CW that I actually review, but I actually like this show. It's appealing because I didn't expect Witchcraft to be so entertaining. It usually works that way with me though. When I go in wanting to hate a show, I end up getting hooked on the show. Pan Am has been the same way this season while Unforgettable and Person of Interest have both been the opposite, as I had high expectations going in but they haven't met them yet. Revenge and A Gifted Man have both met my expectations for them….good and bad.
What to take from this is that you should make time to watch Revenge and The Secret Circle, watch Pan Am if you think you'll like that type of show (you'll hate it if you don't think you'll like it), Unforgettable and Person of Interest are the new cop type Dramas so if that's your cup of tea then watch them because you will not be disappointed, and A Gifted Man is your show if you like ghost and medical related shows.
Note: ABC's Charlie's Angels became the fourth show that has been "officially" cancelled. ABC will continue to run the episodes that have been produced.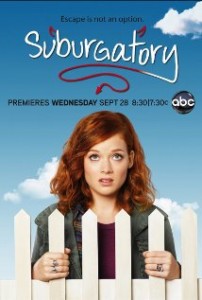 When it  comes to Comedy I don't like to talk about individual shows because I would be here all day if I did that, so in the coming weeks I'm going to start putting the spotlight on a few individual Comedies during the Weekly Recap. This week I'm going to focus more on ABC's Comedies.
The field of Comedy held nothing back this week as all the shows had very solid weeks. The New Girl and Raising Hope will not be back on Television till the first week of November because of Simon Cowell, but it wasn't that big of a deal as all the other shows stepped up their game to make up for the absence.
The Weekly Award has got to go to Suburgatory as it had me laughing for the entire episode. I mean what's better than the dad joining the PTA and the daughter signing up for the School Newspaper and changing it to a Gossip Column? This week there was nothing better.
Last Man Standing also premiered this week and after watching I just had to say that Tim Allen has done it again. He took the concept of a show he was previously on, changed the children to girls, threw in a baby and had me laughing throughout the hour long series debut. I mean who wouldn't be scared of a man with a cross bow?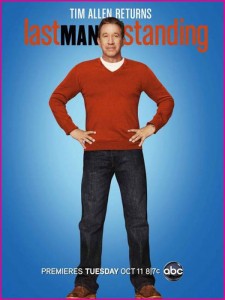 The Wednesday Comedies on ABC held back no punches as well. Modern Family continues to be one of the funniest shows on television, and this week was just that, as we found Mitchell being the hero as the family went to settle a dispute over a fake I.D. that Haley failed to get. Happy Endings added to the hillariousness of Wednesday with an episode featuring the likes of Megan Mullally, formerly of Will and Grace and currently on a recurring role on Parks and Rec, as Penny's songstress mother.
Now the other Comedies throughout the week had great episodes as well.
Basically what you can take from the Sitcoms is that, there really aren't any bad Sitcoms on right now, well side from How To Be A Gentleman, but that is still watchable. So, when it comes to Comedy it really just depends on your personal preferences because there is definitely a show out there for you, if you just look.
The Reality shows really had a great week of deception and a non-elimination race on the other. I think next week (or technically this week) will be the week to watch, as I don't know exactly how Ozzy is going to respond to the deception that he felt last week, and honestly I'm glad the tribe did exactly what they did before Ozzy ran away in a Rob-esk way. Survivor has definitely been better than The Amazing Race up to this point, but The Race always seems to close ground on Survivor towards the end.
Cut List
This is the week that I promised was coming. This week The "Cut List" is taking its first four victims. We go from a total of thirty-four shows being watched to thirty shows.
So are you curious who got "Cut"? Well read through the rankings and then towards the end I will announce the first Casualties.
The Drama Division proved to be nothing new with the Top 5 remaining in place. The only real change was A Gifted Man entered the Top 6 as a result of Playboy Club being cancelled. Of course, as expected, Playboy Club fell to the bottom of the list, Ringer lost because of horrible rankings, and Terra Nova suffered it second consecutive loss. The Secret Circle continues to achieve fantastic Entertainment Score Ratings but the fact that it's on the CW has killed it because of the TV Ratings that station receives. Revenge continues to dominate this division and I really don't see that changing anytime soon.

In the Comedy Division this was a week of great Sitcoms. I honestly feel that none of the shows this week had really weak episodes. The New Girl and Raising Hope both suffered severely from off weeks and that's going to continue for a few weeks as they both won't return until November. Now this next week you can look for quite a few shows to have major jumps as Community, Parks and Rec, Whitney, and The Office are all airing repeats (They'll still get Viewership Scores) , and ABC's Man Up! premieres this week.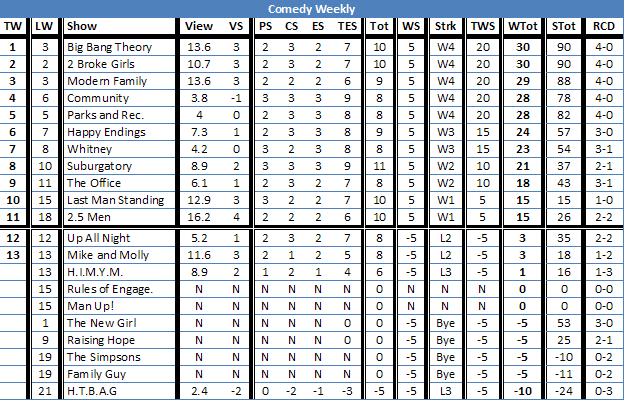 As Reality is concerned Survivor: South Pacific is starting to run away from The Amazing Race. The Amazing Race's only hope at this point is to start with backstabbing and hope to catch up.

The Overall Rankings has become a four horse race between Revenge, Big Bang Theory, 2 Broke Girls, and Modern Family. This week proved to be just that as we officially have a three way tie for first between Revenge, Big Bang Theory, and 2 Broke Girls. Revenge broke the tie in rankings because of its Weekly Score but it is still tied overall with the other two. Modern Family isn't out of this race as it is only two points away from the leaders. As predicted The New Girl felt the grunt of an off week falling eight spots to thirteen. The biggest surprise to me was A Gifted Man claiming the biggest increase this week.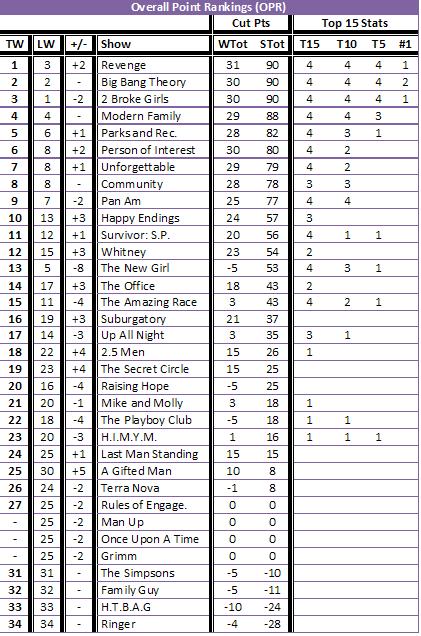 The Quality Points Rankings saw their third leader in as many weeks as Revenge took over the spot. It also seen major changes because of the off shows with Raising Hope falling nine and The New Girl falling six, as The Office, Secret Circle, and Survivor all saw the biggest climbs.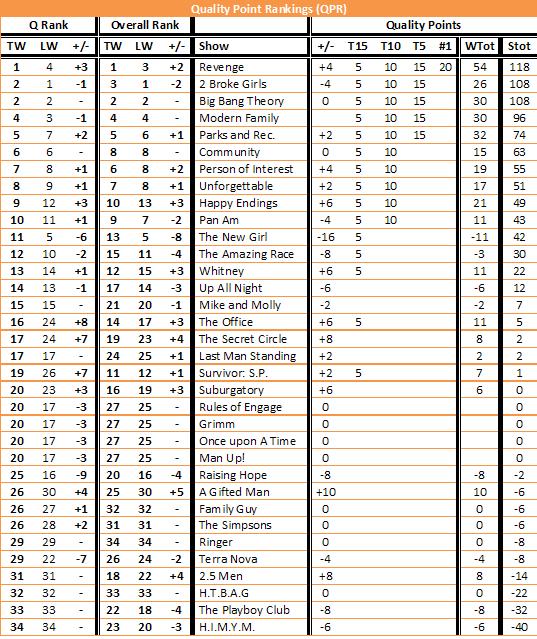 My Personal Rankings changed quite a bit this week as I had Revenge climb to the top of that list as well. The premiere of Last Man Standing helped it jump fourteen spots this week and dominant episodes by Suburgatory and Two and a Half Men jumped them double digits also. It's cancellation did drop The Playboy Club nineteen spots this week.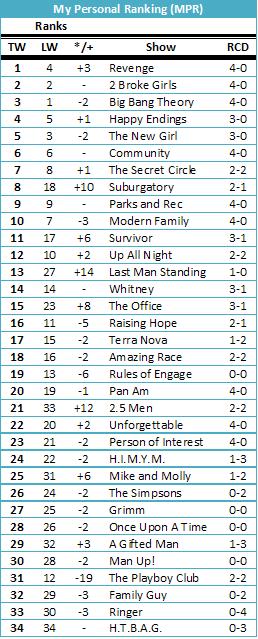 With its dominance Revenge claimed the Number One spot in the Power Rankings this week. Some of the other big movers included The Playboy Club, Last Man Standing, and Two and a Half Men.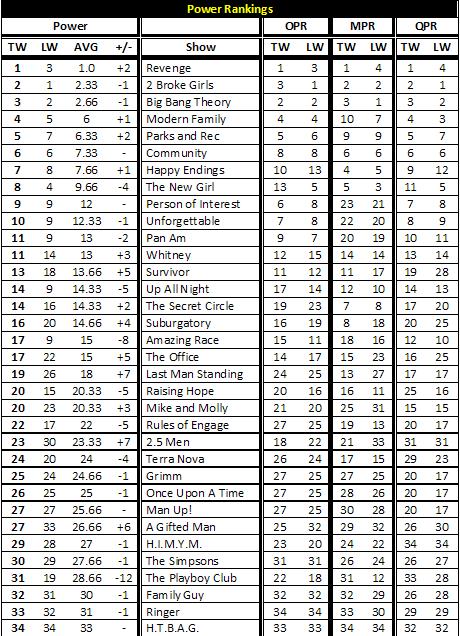 The Power Rankings is a good list to look at when it comes to the first four shows to be "Cut" as the bottom four (Playboy Club, How To Be A Gentleman,  Ringer, and Family Guy) all become the first shows that are removed from this list.
The next "Cut List" is going to be the biggest one for this season. It will occur after the first full week of December (Mon 12/5- Sun 12/11) and during that "Cut" there will be ten shows that are "Cut" from this list (1/3rd of the shows to be exact). I figure that gives all the shows time, during the November Sweeps, to rack up some points and the race should be a little more spread out by then.