Weekly Gleek Report – "Comebacks"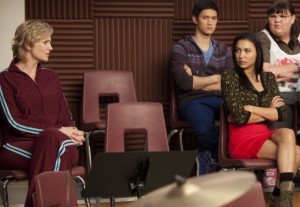 Tonight's Bieber-licious episode of Glee was sadly lacking in several areas. The fact that they included two Justin Bieber songs didn't help. The title of tonight's episode, "Comeback" seemed fitting as Glee came back to the poor plot devices and fragmented story lines that nearly defined the first half of this season.
Somewhere in the chaos of children's hospitals and shaggy wigs was a story about Sam's relationship with Quinn and Sue's struggle to cope with the recent dissolution of her cheerleading squad. Unfortunately, by the end of the episode I had difficulty recalling any major events that had transpired. I know that Santana led Sam to break up with Quinn; Sue sang with Glee and then betrayed them again. The female wrestler also performed a boisterous rendition of "I Know What Boys Like". The music of this episode was ho-hum at best. Fans of The Bieb will probably enjoy his two covers this week of "Baby, Baby, Baby" and "Somebody to Love", others will wish they could fast forward through the sappy Tiger Beat showcase. The mere inclusion of Justin Bieber in an episode that itself stated was supposed to feature "anthems" just goes to show how little the creators care about rationality or any sense of flow.
The only real anthem was My Chemical Romance's "Sing", which ironically is also being featured weekly on American Idol. "Sing" was the best performance of the night and showcased a "born again" Sue Sylvester singing her heart out. Unfortunately, this followed an awkwardly depressing scene where Mr. Schue forced Sue to sing at a children's hospital for terminally ill children. It seems that Glee's attempt to humanize Sue and pull on the heartstrings of its viewers backfired in a way that upset the flow and tone of the rest of the episode.
Considering that half the events in this episode were rehashes of past storylines seems to suggest that Glee's writers are pulling at straws. Hopefully we won't have to endure many more episodes of filler and fluff. The only promising part of tonight's episode was the suggestion that the Glee kids write their own song. If Glee can break the cycle of covers and actually release a genuinely good song, it could be a massive hit…or it could go the way of High School Musical and become a joke. Only time will tell.
What did you think? And why were the Glee kids dressed like lumberjacks when they performed "Sing"?