Watch Video of Metrodome Collapse in Minnesota, Vikings Game Rescheduled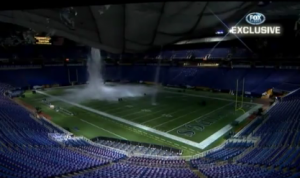 Minnesota received around 2 feet of snow on Saturday morning, and the unexpected blizzard was apparently too much for the Metrodome to handle.
Video was captured from the freak occurrence, where the roof of the Metrodome collapsed under the weight of the snow. The Viking's game that was scheduled later that evening against the Giants was cancelled, and rescheduled for Monday at 6:20pm central time in Detroit.
Watch video below from the Metrodome Collapse in Minnesota:
[hdplay id=226 width=595 height=375]