Watch Video of Lamar Odom Getting Ejected in Game 4 Vs. Dallas Mavericks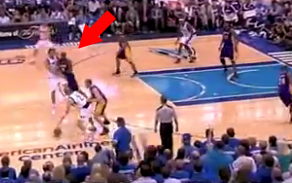 Sunday afternoon during Game 4 of the Western Conference, Lamar Odom of the Los Angeles Lakers was ejected from the game for a flagrant foul 2. Odom, who is also a reality star in the series "Khloe and Lamar," set an illegal screen on Dirk Nowitzki, knocking him straight down to the ground.
Watch video of Lamar Odem Knocking Down Dirk Nowitzki and Getting Ejected From Game 4:
[hdplay id=332 width=595 height=375]
Shortly after Lamar Odom was ejected from the game, Andrew Bynum also thrown out for a flagrant foul 2. This time, the Laker was guilty of clotheslining J.J. Barea straight across the chest as he was pushing towards the basket. The latter was even more-so intentional than Odom's foul.
After the game, Bynum was quoted saying, "We were getting embarrassed, they were breaking us down. So I just fouled somebody."
It was a pretty embarrassing game for the Los Angeles Lakers. What do you think? Leave a comment below.