Watch UFC 101 Online – Declaration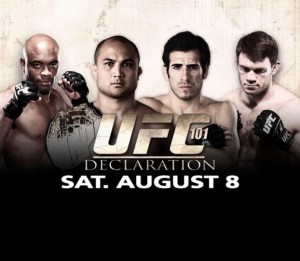 Watch UFC 101 Online – Declaration
The Ultimate Fighting Championship® makes its Philadelphia debut on Saturday, August 8th for UFC® 101: Declaration. In the main event, the two best 155-pound fighters in the world finally meet when UFC® lightweight champion BJ Penn looks to defend his crown against number one contender Kenny Florian. Penn has never lost at 155-pounds, and Florian is looking to change that stat this summer.
In the co-feature, the pound-for-pound king of mixed martial arts, middleweight champion Anderson "The Spider" Silva, tests the waters at 205 pounds once again when he battles former light heavyweight champ and Ultimate Fighter season one winner Forrest Griffin.
UFC® 101: Declaration – Saturday, August 8th, live on Pay-Per-View from the Wachovia Center in Philadelphia, Pennsylvania.
Venue doors open – 6:45 pm ET | First Bout – 7:40 pm ET | Live on television – 10 pm ET
Click Here to watch on Yahoo! Sports – $44.95 gets you the live event plus 24 hours of unlimited archive viewing
Click Here to watch on UFC.com – $44.95 gets you the live event plus 24 hours of unlimited archive viewing
BJ Penn Vs. Kenny Florian
 

| | |
| --- | --- |
| Name: | BJ Penn |
| Height: | 5′ 9″ (175 cm) |
| Weight: | 155 (70 kg) |
| Record: | 13-5-1 |

| | |
| --- | --- |
| Name: | Kenny Florian |
| Height: | 5′ 10″ (178 cm) |
| Weight: | 155 (70 kg) |
| Record: | 13-3-0 |

 
 
Anderson Silva Vs. Forrest Griffin
 

| | |
| --- | --- |
| Name: | Anderson Silva |
| Height: | 6′ 2″ (188 cm) |
| Weight: | 205 (93 kg) |
| Record: | 24-4-0 |

| | |
| --- | --- |
| Name: | Forrest Griffin |
| Height: | 6′ 3″ (191 cm) |
| Weight: | 205 (93 kg) |
| Record: | 16-5-0 |

 
 
Amir Sadollah Vs. Johny Hendricks
 

| | |
| --- | --- |
| Name: | Amir Sadollah |
| Height: | 5′ 11″ (180 cm) |
| Weight: | 170 (77 kg) |
| Record: | 2-0-0 |

| | |
| --- | --- |
| Name: | Johny Hendricks |
| Height: | 5′ 9″ (175 cm) |
| Weight: | 170 (77 kg) |
| Record: | 5-0-0 |

 
 
Kendall Grove Vs. Ricardo Almeida
 

| | |
| --- | --- |
| Name: | Kendall Grove |
| Height: | 6′ 6″ (198 cm) |
| Weight: | 185 (84 kg) |
| Record: | 12-5-0 |

| | |
| --- | --- |
| Name: | Ricardo Almeida |
| Height: | 6′ 0″ (183 cm) |
| Weight: | 185 (84 kg) |
| Record: | 10-3-0 |

 
 
Josh Neer Vs. Kurt Pellegrino
 

| | |
| --- | --- |
| Name: | Josh Neer |
| Height: | 5′ 11″ (180 cm) |
| Weight: | 155 (70 kg) |
| Record: | 25-7-1 |

| | |
| --- | --- |
| Name: | Kurt Pellegrino |
| Height: | 5′ 8″ (173 cm) |
| Weight: | 155 (70 kg) |
| Record: | 19-4-0 |

 
 
Shane Nelson Vs. Aaron Riley
 

| | |
| --- | --- |
| Name: | Shane Nelson |
| Height: | 5′ 9″ (175 cm) |
| Weight: | 155 (70 kg) |
| Record: | 13-3-0 |

| | |
| --- | --- |
| Name: | Aaron Riley |
| Height: | 5′ 8″ (173 cm) |
| Weight: | 155 (70 kg) |
| Record: | 27-11-1 |

 
   
Tamdan McCrory Vs. John Howard
 

| | |
| --- | --- |
| Name: | Tamdan McCrory |
| Height: | 6′ 4″ (193 cm) |
| Weight: | 170 (77 kg) |
| Record: | 12-2-0 |

| | |
| --- | --- |
| Name: | John Howard |
| Height: | 5′ 7″ (170 cm) |
| Weight: | 170 (77 kg) |
| Record: | 11-4-0 |

 
   
Thales Leites Vs. Alessio Sakara
 

| | |
| --- | --- |
| Name: | Thales Leites |
| Height: | 6′ 1″ (185 cm) |
| Weight: | 185 (84 kg) |
| Record: | 14-2-0 |

| | |
| --- | --- |
| Name: | Alessio Sakara |
| Height: | 6′ 0″ (183 cm) |
| Weight: | 185 (84 kg) |
| Record: | 17-7-0 |

 
   
Matthew Riddle Vs. Dan Cramer
 

| | |
| --- | --- |
| Name: | Matthew Riddle |
| Height: | 6′ 1″ (185 cm) |
| Weight: | 170 (77 kg) |
| Record: | 2-0-0 |

| | |
| --- | --- |
| Name: | Dan Cramer |
| Height: | 6′ 2″ (188 cm) |
| Weight: | 170 (77 kg) |
| Record: | 1-0-0 |

 
   
George Sotiropoulos Vs. George Roop
 

| | |
| --- | --- |
| Name: | George Sotiropoulos |
| Height: | 5′ 10″ (178 cm) |
| Weight: | 155 (70 kg) |
| Record: | 9-2-0 |

| | |
| --- | --- |
| Name: | George Roop |
| Height: | 6′ 1″ (185 cm) |
| Weight: | 155 (70 kg) |
| Record: | 9-5-0 |

 
 
Jesse Lennox Vs. Danillo Villefort
 

| | |
| --- | --- |
| Name: | Jesse Lennox |
| Height: | 5′ 9″ (175 cm) |
| Weight: | 170 (77 kg) |
| Record: | 14-1-0 |

| | |
| --- | --- |
| Name: | Danillo Villefort |
| Height: | 6′ 1″ (185 cm) |
| Weight: | 170 (77 kg) |
| Record: | 9-2-0 |