Watch the G.I. Joe HD Featurette, and Learn the G.I. Joe Back-story
Watch the new HD featurette on "G.I. Joe: The Rise of Cobra." Take a look at the history of the franchise, from toy line and other merchandise to the cartoon series. Also, gain some insight into the background of the upcoming film.
Check out the HD Trailer for G.I. JOE: RISE OF THE COBRA below: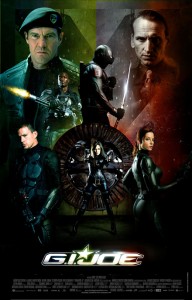 G.I. JOE: RISE OF THE COBRA is live-action film based on the action figure G.I. Joe, an American soldier. From the Egyptian desert to deep below the polar ice caps, the elite G.I. Joe team uses the latest in next-generation spy and military equipment to fight the corrupt arms dealer Destro and the growing threat of the mysterious Cobra organization to prevent them from plunging the world into chaos.