Watch Awesome New Batman Short Film, "City of Scars"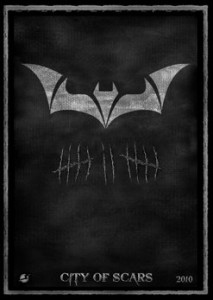 Check out this awesome Batman short film from Bat in the Sun Productions, a film company in LA that started in 2001. BITS was founded by two brothers, Aaron and Sean Schoenke. You may remember a short film that they did several years back called "Patient J," about the Joker.
When the Joker escapes from Arkham and murders the parents of a young boy, Batman recalls the pain of losing his own parents as a child. He is pushed past his limits to the point where his focus becomes revenge on all who stand in his way, including many of Gotham's underworld. Finally, Batman is forced to look at the psychological profile of his own mind and accept the consequences of his life to find resolve.
The look of their films is pretty neat. I would not be surprised if they directed a large project very soon. For more information about the movie, or Bat in the Sun Productions, visit their website at batinthesun.com.